Kate Winslet Slams Pregnancy Critics, Says Son Won't Be Named Bear 'Rocknroll'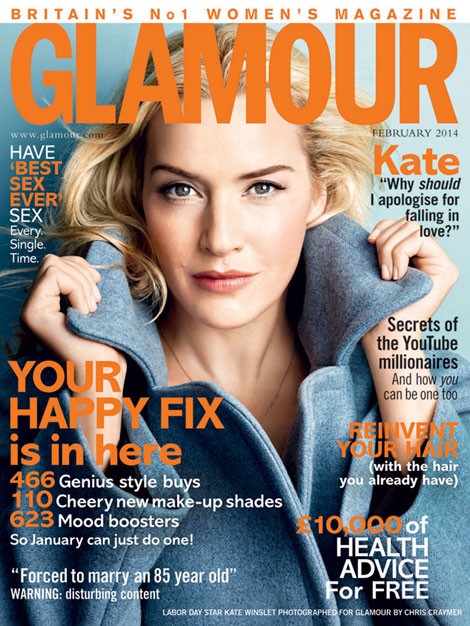 Kate Winslet is puzzled that people consider her "irresponsible" for falling and love and having children. The actress, who had baby Bear with husband Ned Rocknroll last month, has three children with different fathers and has slammed critics for questioning her personal life.
She told British Glamour magazine: "No one has a right to comment on anyone's life or the choices I do or don't make. It's very easy to be judgmental until you know someone's truth. People have no idea at all. It baffles me, truly, that you can publicly treat a person like that. It's not very nice.
"I'm really sorry to the nation's press that I fell in love and got pregnant; I do apologize if you deem that irresponsible."
Winslet, 38, has a daughter, Mia, 13, with ex-husband Jim Threapleton and a son, Joe, 10 with her second ex-husband Sam Mendes. And depite rumors to the contrary, her latest arrival won't be named Bear Rocknroll.
She explained: "We haven't ever really had that conversation; it was always going to have my name. Of course we're not going to call it Rocknroll. People might judge all they like, but I'm a f***ing grown-up."
(In case you didn't know, Ned Rocknroll was born Abel Smith and is a nephew of billionaire Virgin Group founder Richard Branson.)
She added that her two other kids have Winslet as part of their names, "so it would be weird if this baby didn't."
As for getting rid of the baby weight, she said: "Having just had a baby, I'm not going to be thinking about my arse."
Winslet previously admitted she enjoyed her third pregnancy the most. She explained: "I've been more active and healthier. I know more about how to take care of myself now. I think that between 27 and 37 was a big learning decade. I've been lucky - a bit tired and a bit sick at the beginning, but nothing major."