Kate Winslet, Keira Knightley & Helena Bonham Carter Make Top British Female Power Players List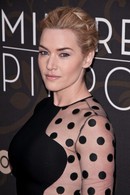 Actresses Kate Winslet, Keira Knightley, Helena Bonham Carter and Tilda Swinton have been named among Britain's top 50 female power players in a new list compiled to mark International Women's Day.

Officials from the U.K.'s Women in Film and TV organization have created a countdown of the country's biggest and brightest talents to celebrate the ladies who have made an impact on the entertainment industry.

Other celebrities to make the cut include actresses Maggie Smith, Carey Mulligan, Naomie Harris and Miranda Hart, while The Iron Lady director Phyllida Lloyd, Wuthering Heights filmmaker Andrea Arnold and We Need to Talk About Kevin director Lynne Ramsay have also earned a mention.