Kate Winslet Forms The 'British Anti-Cosmetic Surgery League'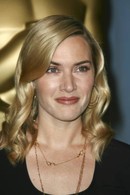 Kate Winslet has joined forces with fellow British actresses Emma Thompson and Rachel Weisz to rally against the cosmetic surgery trend in Hollywood.

The Titanic star is adamant she won't ever go under the knife and has formed what she's dubbed the 'British Anti-Cosmetic Surgery League' with fellow Oscar-winners Thompson and Weisz.
 
She tells Britain's Daily Telegraph, "I will never give in. It goes against my morals, the way that my parents brought me up and what I consider to be natural beauty. I am an actress, I don't want to freeze the expression of my face."

And Thompson agrees, adding, "I'm not fiddling about with myself. We're in this awful youth-driven thing now where everybody needs to look 30 at 60," while Weisz claims people "who look too perfect don't look sexy or particularly beautiful."

Meanwhile, Salma Hayek has also spoken out against cosmetic surgery, telling the latest issue of Allure magazine, "I believe that every woman is entitled to fight to preserve her youth. (But) it's (cosmetic surgery) like the uniform of a generation. And it's not necessarily beautiful. It's not wrinkled-looking, but it's not beautiful."