Kate Upton's Latest V Magazine Cover Lets Fans Take Off Her Clothes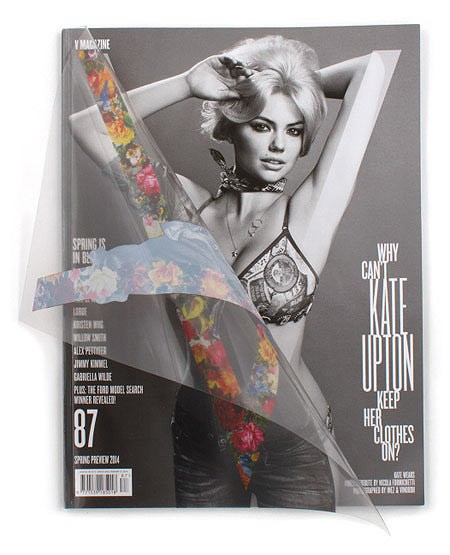 Kate Upton is showing off her sexy curves once again -- this time on the cover and on the pages of the February issue of V Magazine.

The voluptuous supermodel, who's set to make her acting debut alongside Cameron Diaz and Leslie Mann in The Other Woman (out April 25), has finally opened up about the 2012 comments made about her by Victoria's Secret exec Sophia Neophitou.

Following the release of Sports Illustrated's annual Swimsuit Issue, the lingerie giant's casting director said she would "never use" Upton in one of the company's photoshoots.

"I had just gotten my cover of Sports Illustrated that day. I wasn't used to that kind of media swirl," Upton says. "I had never met her, so it really came out of nowhere. It was my introduction to being in the spotlight and having people you've never met have an opinion of you."

Fans of Upton, who appears on her fourth cover for the magazine, will be thrilled to know that they can virtually undress her by peeling back a transparent layer over the cover, which shows the model in a pair of jeans and a denim shirt with the magazine's logo done in a floral print. Peeled back, the cover simply shows Upton in a beer label bikini enhanced with bottlecaps.

Up next for Kate? According to the New York Post's Page Six gossip column, she was recently photographed in a bikini in "zero gravity space" for the 2014 Sports Illustrated Swimsuit Issue.
The February issue of V Magazine hits newsstands January 16.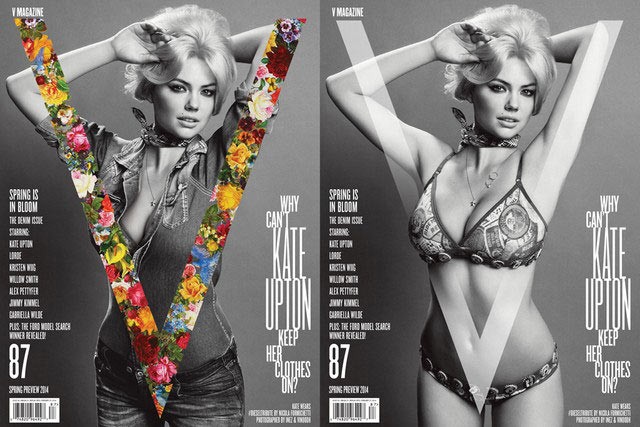 See these bigger on page 2.