Kate Upton's Anti-Gravity Sports Illustrated Shoot Took Place Less Than A Month After Jimmy Fallon Suggested It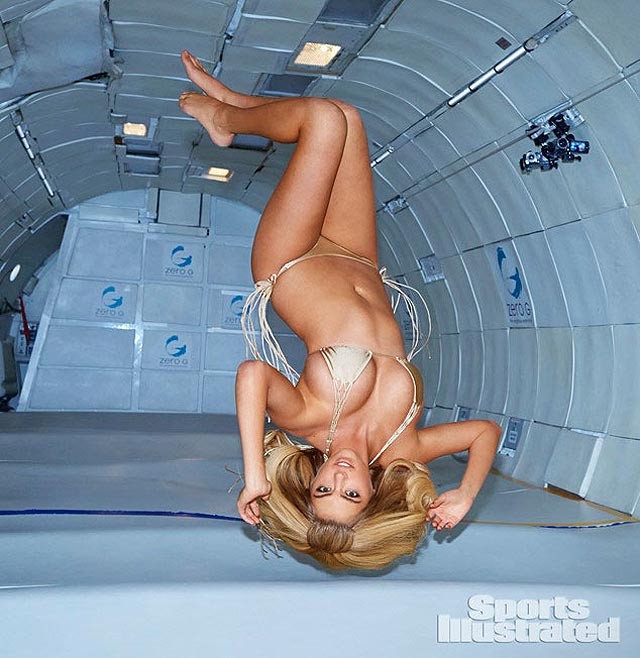 Sports Illustrated Swimsuit Issue bosses may have taken their cue from late night TV host Jimmy Fallon last February when supermodel Kate Upton guest starred on the show to promote the 2013 Swimsuit Issue.

Upton's photos for the annual special issue were shot in Antarctica, making her the first model to do a shoot on the icy continent.

Fallon said that there's only one place left to go now: space.

In fact, Fallon's suggestion actually came to its fruition just a month later.

Upton doesn't actually appear in space in the 2014 issue, but she got pretty close. Her shoot was done in zero gravity thanks to the Zero Gravity Corporation (ZERO-G).

Upton floated 13 times in zero gravity and four times with the amount found on the surface of the moon during the shoot thanks to a specially outfitted Boeing 727 jet known as "G-FORCE ONE."

The plane is able to simulate low gravity and zero gravity by flying in "parabolas" in which the plane levels out at around 24,000 feet before quickly ascending to 34,000 feet. Once it reaches that altitude, the plane quickly falls, rendering everything in the aircraft weightless for 20-30 seconds before leveling out again.

"The ZERO-G experience was really exhilarating for everyone involved," SI Swim editor MJ Day said in a press release. "We have been almost everywhere in the past 50 years with SI Swimsuit, but we have never done anything like this. It was certainly the most out-of-the-box shoot.

"Once again, Kate surprised us all with how she handled modeling in weightlessness."

Last year, Fallon suggested Upton use her reputation to tell the magazine there was no way she'd shoot in such a locale, adding that they could have just done it in a warm hotel room in front of a green screen. He then suggested that a shoot in Iraq would now be possible before realizing, "Space... space..."

"Next year, I see it," Upton added.

"Think about this there's no gravity..." he added before realizing what he accidentally implied. "That could be the next move, he added.

Interestingly, the shot took place on March 18, 2013 -- less than a month after Upton appeared on the show.