Kate Upton: 'I Do Have A Bikini Body, And I'm Proud Of It!'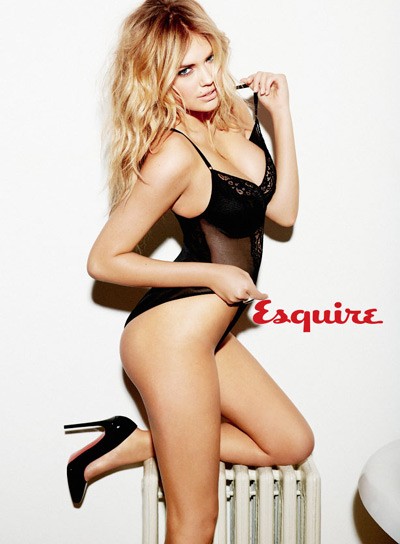 Sports Illustrated's annual Swimsuit Issue isn't the only magazine model Kate Upton bares plenty of skin in this month. The sexy Upton shares the cover of the March issue of Esquire magazine with actor Jon Hamm in a special fold-out cover that reveals a topless Upton is really "The Animal" hiding behind the Mad Men star.

The 19-year-old supermodel wasn't quite sure she'd even be doing SI's Swimsuit Issue this year, let alone be its cover girl (at the time of her Esquire interview last year shooting for the legendary issue hadn't begun yet).

"I'm actually not 100-percent I'm going to be shooting for SI yet," she said.

Last year a video was posted to Kate's Twitter (which subsequently surfaced on YouTube) featuring the model dancing during a break in the action at a Los Angeles Clippers game to Cali Swag District's hit "Teach Me How To Dougie". The video quickly went viral, and when asked what made it so special she says it's because it shows that she's more than just a hot body posing in sexy swimsuits.

"People want to see personality," she says. "Otherwise they make assumptions, like, [she describes a pair of invisible breasts with her hands] 'Yeah, she's pretty, but she's probably a b*tch.' That's why everyone likes the video. It's me. It wasn't planned for Twitter or YouTube. It's, like, real." (Watch the video below!)

While the 'Dougie' video reveals that Kate's a normal person with a personality, when asked if being known as just a bikini model worries her, she knows she's capable of other things, too.

"...I do have a bikini body, and I'm proud of it. So if I get pegged as a bikini girl, that's fine, and that can still translate into acting or other areas. But, no, I don't wanna be doing bikini shoots my whole life," she says.

As far as acting goes, this 'bikini girl' already has a couple of roles under her belt - last year she had a bit part alongside Ben Stiller and Eddie Murphy in Tower Heist; and she has a small role as a 'nun in a bikini' in the upcoming Three Stooges movie, due later this year.


See more of Kate Upton & read her full interview in the March issue of Esquire magazine and at Esquire.com!