Kate Upton Gets Summer Started With A Sizzling, Topless Photoshoot For GQ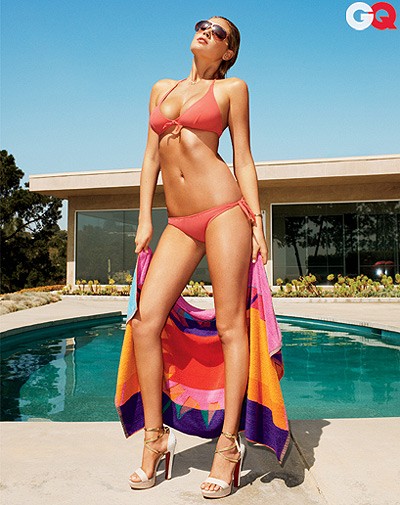 Kate Upton is arguably America's most popular supermodel - thanks to the coveted cover spot on this year's Sports Illustrated Swimsuit Issue, numerous sexy commercials, endorsements, and a controversial cameo in the big screen adaptation of The Three Stooges. Oh yeah, and that killer bod probably has a lot to do with it.

The voluptuous blonde was shot by famed celebrity photographer Terry Richardson and appears in a scorching hot, topless (read: hand bras) photoshoot for the July issue of GQ magazine (so hot you'll have to go to GQ.com to see the uncensored images and the borderline-nsfw behind-the-scenes video).

Kate reveals in her accompanying interview that she had a bit of a wardrobe malfunction one day during her shoot and ended getting kicked out of the amusement park at the Santa Monica Pier.

"For the GQ photo shoot, we were on that ride where the seat spins while the actual ride is spinning, and I'm wearing a one-piece [swimsuit]," she says. "And all of a sudden the whole entire top falls off! I'm holding myself, laughing, turning bright red, but a lot of people are watching, so they kicked us out of the Santa Monica Pier — it was so embarrassing."

"You wouldn't think that would happen with a one-piece!" She adds.

The model also clears up that whole 'nun-kini' scene in Stooges, telling GQ that her intent wasn't to offend anyone, but she has no regrets.

"I can see why the Catholic Church would be upset with me," she says. "But it was just for fun, and I try not to take it more seriously than that."

She's also well aware of her good looks and knows why she's amassed 370,000 Twitter followers and had no qualms about starring in racy commercials for the likes of Zoo York, Carl's Jr. and DirecTV.

"I grew up in Florida riding horses, so for the majority of my life I was either in boots and jeans or a bathing suit. I understand why my male followers like me," she says.

And you can expect to see a lot more of Kate in future racy photo shoots.

"It's like any job," she says. "You find your strengths and play them up."

Check out a few more pics on the next pages and head over to GQ.com for the rest. Or grab the July issue - it's on newsstands now.