Kate Upton Gets Engaged - To A Magic Dragon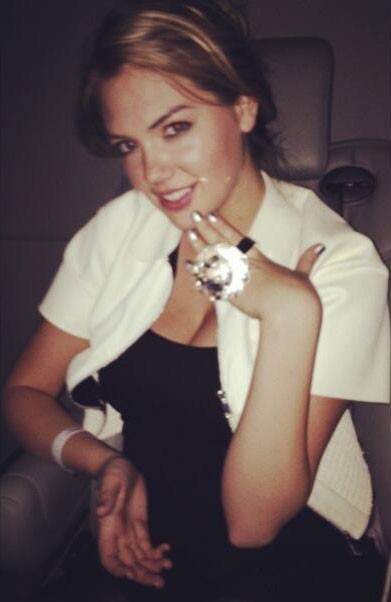 Kate Upton was flashing a ring after the Orlando Magic's game on Friday, but it wasn't from boyfriend Justin Verlander!
Kate tweeted, "Thanks @STUFF_mascot for the proposal tonight! Great game!" with the above photo featuring a massive "diamond" the size of her hand. She received the ring from Magic mascot Stuff when he went down on one knee and proposed - while her boyfriend Justin wasn't in his seat beside her! "I was gone for 5 seconds!" the pitcher wrote in response to her post.
Shocking! Even the guy behind her cant believe it! @KateUpton @JustinVerlander pic.twitter.com/o1AV895YQM

— STUFF, Magic Mascot (@STUFF_Mascot) February 10, 2014
The mascot tweeted as well, explaining, "She didnt say yes... and she didnt say no... so you're saying there's a chance!" and, "@JustinVerlander when you got it, you got it... sorry Verlander... boo thang--> @KateUpton."
I tried to make amends with @JustinVerlander tonight.... no dice! pic.twitter.com/TqzC65nwjI

— STUFF, Magic Mascot (@STUFF_Mascot) February 10, 2014
Perhaps Verlander should put a real ring on Upton's finger before another magical creature comes along to whisk her away.