Kate Upton Dances In A Skimpy Bikini In A New Video For Photographer Terry Richardson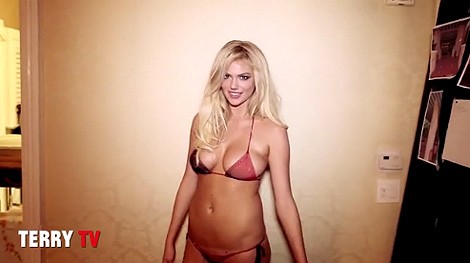 Kate Upton stars in a steamy new short film from famed celebrity photographyer Terry Richardson that was quickly slapped with an age-restriction tag on video-sharing website YouTube on Tuesday.

Bosses at the site felt the minute-long clip, which features Upton wearing a barely-there red bikini and gyrating her hips provocatively to the Rej3ctz song "Cat Daddy", violated the site's regulations on nudity and sexual content - despite the video containing neither of the two. Now YouTube users need to be 18 years of age and logged in if they want to see it.

But Richardson later posted the clip to video site Vimeo.com where it doesn't have any age restrictions.

At the beginning of the video photographer/director Richardson says, "Only in America, tonight, ladies and gentleman, Kate Upton demonstrating the 'Cat Daddy'... Take it away, Kate."

Kate then wiggles and jiggles for 30-seconds - much like she did when she did the "Dougie" at a Los Angeles Clippers game last year - before covering her chest and saying, "That's it. That's all you're gonna see. Get out of here."

The Sports Illustrated cover girl also posed for a sexy black-and-white photo shoot for Richardson, which can be seen on his website, Terry's Diary.com.

Upton recently came under fire for the outfit she wore in the movie adaptation of The Three Stooges. She played a nun in the film and stripped down to a lacy black bikini for a pool scene in the movie.