Kate Upton Brings The Heat With See-Through Wet T-Shirt & Topless Outtakes From GQ Magazine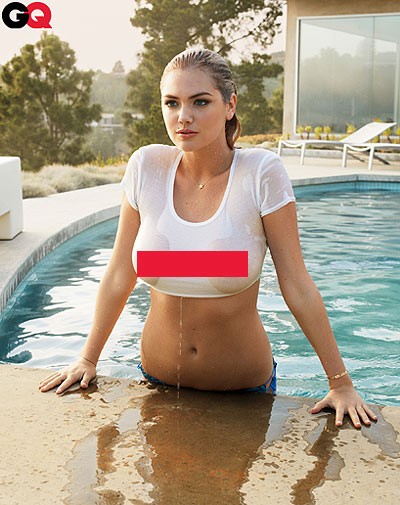 Kate Upton sizzles, once again, in a few outtakes from the July issue of GQ Magazine; featuring the sexy model in various skimpy swimsuits, posing topless, and even in a couple of shots while wearing a soaking wet white t-shirt that leaves absolutely nothing to the imagination.

Upton inadvertantly found herself at the center of a controversy last month when a blogger called Skinny Gurl made a post on her blog "Skinny Gossip" likening the supermodel to a "little piggie" and calling her a "cow."

Skinny Gurl likened Upton's catwalk modeling skills to "lumbering up the runway like there's a buffet at the end of it." she also pointed out a few of Upton's weaknesses, such as having "huge thighs," "no waist," and "big fat floppy boobs."

The blogger has since changed her position on her post, saying she only did it to be "intentionally outrageous." Perhaps it was all the death threats, rape threats and having her site attacked by cyber activist group Anonymous.

"I never imagined it would grow to the point where the celebrities I was writing about were actually reading the articles, and that has made me think," Skinny Gurl wrote.

Some of Kate's pics from the outtakes might be considered nsfw, but we've censored them ourselves. More pics start right here...
Check out Kate Upton's cover shoot video: