Kate Middleton's Style Secrets Revealed!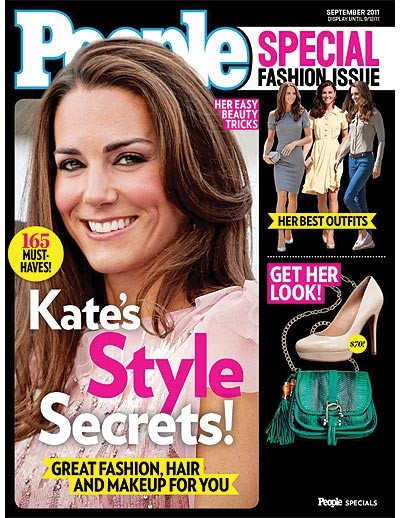 PEOPLE magazine answers the burning question, "What Makes Kate Great?" in a special fashion issue all about Catherine, Duchess of Cambridge – on newsstands Friday through September 12th.

Ever since she dazzled the world in Alexander McQueen on her royal wedding day, Kate has proved that when it comes to fashion, the girl from Bucklebury rules. In this special newsstand-only issue, PEOPLE demonstrates how to dress like a duchess for under $100, reveals Kate's makeup and hairstyle secrets, features the style elements in her signature looks, and much more.

Kate Middleton may have married a prince, but the 29-year-old's ascension to fashion royalty from her fresh-faced country girl days is an accomplishment all her own – seamlessly blending the traditional with the modern; the regal with the real. By mastering that high-low mix, Kate thrills a tea-towel-waving royalist public, as well as a celebrity-obsessed one. Kate repeats her outfits, and suddenly, economizing is cool. With her Breck-girl blowout and High Street favorites, she inspires every woman who believes a princess moment might just be a mall trip or mouse click away.


Highlights from PEOPLE's Special Fashion Issue celebrating Princess Kate's Style Secrets include:

-Shop Like Kate: There's no need to be a princess to dress like one. Check out what's new from the brands that Kate loves, like Reiss, Zara, L.K. Bennett, Whistles, Diesel, J Brand, Sebago, Topshop and French Connection.

-Dress Like a Duchess…for Less: This fall, go for princess style with these budget-friendly pieces.

-Kate's Beauty Secrets: All eyes are on the duchess, and her simple, sophisticated approach to makeup. Beauty guru Bobbi Brown, who counts Kate among her fans, breaks down the princess's natural look for brows, eyes, cheeks and lips. Plus, how to get Kate's voluminous mane.

-Kate's Sleek Sister: The streets of London serve as a runway for Pippa Middleton. Bold prints and slim-fitting jeans are staples in her fun and feminine wardrobe.

-Kate's Elements of Style: PEOPLE breaks it down from head to toe – Kate's fascinating fascinators, cinched waist, modest hemline, quiet clutches, dainty jewelry, nude panty hose, and classic pumps.

-Kate's British Flair: The new international style ambassador relies on a vey of British designers who are finding their own place in the spotlight.

-The Royal Recycler: Duchess déjà vu! Kate has designers at her beck and call and can choose a new outfit for every occasion. But this economy-minded future Queen loves to shop her closet.

-The Queen of Lean: Long legs, toned arms, a tiny waist – a perfect shape to show off any look she chooses. How Princess Kate stays fit.


PEOPLE's Special Fashion Issue celebrating Princess Kate's Style Secrets is on newsstands Aug. 12 – Sept. 12.