Kate Middleton's Nude Photo Scandal: A Royal Invasion Of Privacy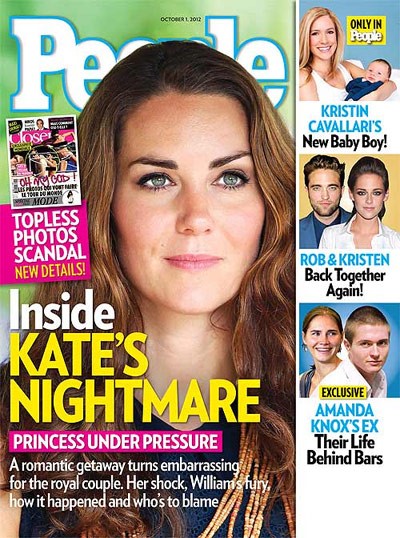 Princess Kate and Prince William face the dark side of royal life as topless photos taken of her with a long-lens camera as she sunbathed at a private estate in the South of France during a romantic getaway go viral. This week's issue of PEOPLE examines how she's coping, who's to blame, and how the Palace is standing by the future Queen.

"They were absolutely united in how they felt about it," a source says of the couple, who struggled to hide their emotions in public. "A red line had been crossed." And an era of relative innocence, it seemed, had come to a sudden, jarring end for Britain's golden couple. For the perfect princess, who hadn't put a foot wrong since saying her I dos in Westminster Abbey, it was a baptism by fire into the complete lack of privacy that is royal life. For Prince William, who had assiduously shielded his beloved from the kind of media attention that ruined the life of his mother, Princess Diana, it was an infuriating reminder of the limits of his control. And for the Palace, fresh from Prince Harry's nude photo scandal in Las Vegas, it was one more headache they didn't need.

Official response was swift: As an angry Prince William and a solemn-looking Kate took off in a plane that afternoon, the Palace released a statement declaring that Closer, the French magazine that had published the photos, "had invaded their privacy in…a grotesque and totally unjustifiable manner." Four days later, lawyers for the couple won an injunction forcing the magazine to cease publication of the photos. It was a victory, but the damage had largely been done. The risqué shots had already been on sale for days in France, been reprinted in other foreign tabloids and gone viral online. The couple filed a criminal complaint against the as-yet-unidentified photographer for invasion of privacy, and a criminal investigation had been launched.

As Will and Kate, both 30, continued their tour of Asia, they could rest assured that the "anger and disbelief," as a source described it to PEOPLE, felt by their relatives – especially the Queen – was not directed at them. "The rest of the royal family are most definitely supporting them in everything that they are doing," says a Palace source. Adds Ken Wharfe, a former bodyguard to Princess Diana: "If this were Fergie, [the Queen] would be livid. But this is top-drawer royalty: a favorite grandson and his beautiful wife. They live in another world."

Taking off her bikini top during a private vacation – in the nudity-friendly South of France, no less – is certainly not the crime of the century. "She's got to have a life; they both have," says a hometown friend. "When they are on vacation, they should be left alone." By the pool on Sept. 5, the intention was just that. "They were in a private place, they felt secluded," says Prince William's former press officer Colleen Harris. "If she thought for a second anyone would see, she wouldn't have done it."

Security experts blame their protection officers for failing to secure the estate's perimeter. "Every plan must look at what-if scenarios," says Dai Davies, former head of royal protection at Scotland Yard, who suggests that if a photographer could see her from the road, so could a sniper. But others insist the royal couple are to blame. Says fashion commentator Hilary Alexander: "Sunbathing topless is one of those things you might just have to give up as a future Queen."

*Also In This Week's 'People'*
Exclusive: Kristin Cavallari's New Baby Photos!
Exclusive: Amanda Knox's Ex Opens Up In A New Memoir
Justin Bieber's Mom: Selena Gomez "Is A Sweetheart"
Robert Pattinson & Kristen Stewart Back Together Again!
Amanda Bynes: "she Tells People She Doesn't Party Or Drink"


The new issue of People Magazine is on newsstands everywhere now.