Kate Middleton Smiles & Goes On With Life In Tuvalu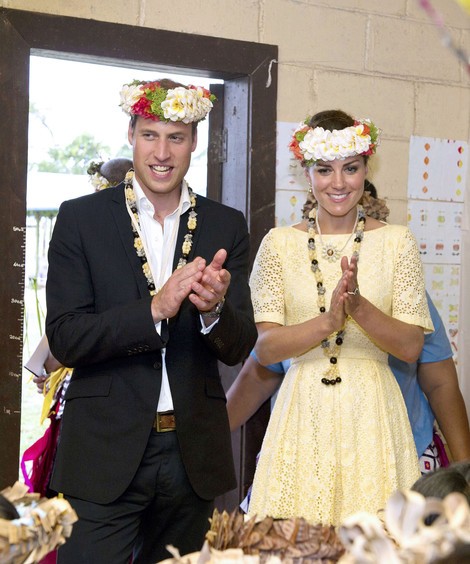 As wonderful as life may seem for wealthy, royal families, it also has its pitfalls. As demonstrated by Kate Middleton's recent nude photo scandal, sometimes bad things happen to good people. Especially if they're one of the most famous people in the world.
But the Duchess of Cambridge isn't letting the release of candid topless photos get her down. She and her husband Prince William have been touring the Far East and Pacific as part of the Queen's Diamond Jubilee year. And they've put on quite a show, smiling and genuinely appearing to have fun before the cameras.
Earlier today the couple visited the Nauti Primary School in the remote Polynesian island nation of Tuvalu. Kate looked lovely in a pale yellow dress, and she and William wore flower headpieces in their hair.
Check out more photos from the visit...