Kate Middleton Pushes The Boundaries Of Sexiness With Her New Sense Of Style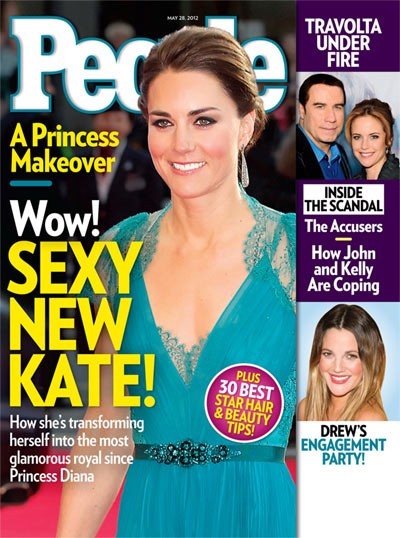 A year into her royal role, a newly confident Princess Kate is turning up the va-va-voom by showing off her toned physique with plunging necklines, thigh-high slits, and come-hither heels. This week's issue of People demonstrates how she's gone from demure to daring and is transforming herself into the most glamorous royal since Princess Diana.

What exactly is going on with the famously decorous princess, who all of a sudden is leaving her panty hose and sensible high street looks at home in favor of more seductive styles? It all seems to point to a newly assertive Kate who, at 30, is happily married to her prince and, with a year of experience under her tiny, Swarovski-crystal-encrusted belt, is a widely acclaimed success in her royal role. "Kate feels confident in her style," says Ingrid Seward, editor-in-chief of Majesty magazine. "You don't wear clothes like that if you are a shrinking violet." In fact, fashion experts say Kate's already making the sort of bold choices that it took Princess Diana years to feel comfortable attempting.

"She is becoming more adventurous with her fashion choices," stylist Nikki Pennie tells People. "She's always been glamorous, and now even more so." But don't expect her to go too far. While her trim physique, which she keeps in shape with a rigorous exercise schedule that includes running and gym workouts, is perfect for the most skin-baring styles, Lisa Armstrong, fashion editor of The Daily Telegraph, says Kate has actually made it cool for young women to dress conservatively. "It really wouldn't do for her to dress like a Kardashian," Armstrong tells People. "She's dressing for her role in the way that she likes. People feel she is real, and she's wearing clothes that they can wear. But she still has to look like a princess."

More on Princess Kate's style evolution is featured in photos in the new issue of People - on newsstands now!


*Also In This Week's 'People'*
Travolta Under Fire: "People Are Going To Come Forward To Get Their 15 Minutes Of Fame"
Exclusive Photos: Katherine Heigl's Newly Adopted Baby
Billy Bob Thornton On Angelina: "People Thought We Had A Horrible Breakup. We Didn't"
Meet Dawson's [James Van Der Beek] Son! "Having Kids Makes Me Feel Complete"