Kate Middleton Makes First Solo Public Appearances While Prince William Is Away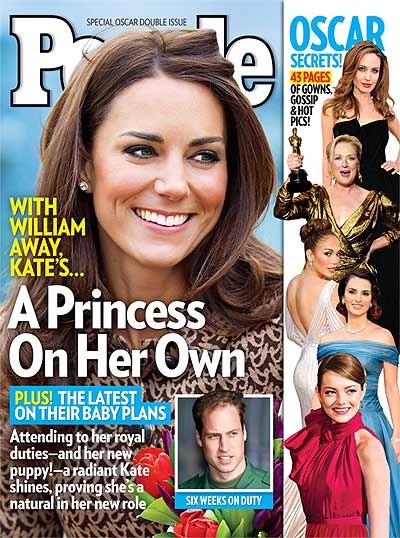 Less than a year since Kate Middleton became the Duchess of Cambridge, she's winning hearts – and heartfelt admiration – as she steps confidently out into the royal spotlight for the first time without Prince William's steady guidance. In this week's issue of PEOPLE, Kate makes her first solo royal appearances, where she charms and impresses, proving to be a bright new jewel in the royal crown. The warm smile; the quick laugh; the steady, connected gaze – this commoner turned princess is showing that she's better than good at her job.

While William serves a six-week stint with the Royal Air Force search-and-rescue helicopter crew in the Falkland Islands, Kate has made six solo appearances in two weeks, including attending the opening of a Lucian Freud exhibit in London, visiting an alcohol-free bar (where she talked to recovering addicts), a children's hospital in Liverpool, and an art program for kids with special needs at a school in Oxford. Everywhere she goes she wins rave reviews for the seamless ease with which she has embraced her regal role. "She is genuine," says a Palace source, "both in private and in public."

Kate is also making history within the royal family. The Queen herself – who never appeared at an official engagement with her daughters-in-law Diana or Fergie in their first year of marriage to her sons – personally invited Kate to join her in four upcoming royal events, including a tea party with Camilla at the London landmark Fortnum & Mason and a university fashion show in Leicester to kick off the monarch's Jubilee tour. "The Queen has given more thought to mentorship," says Robert Lacey, author of the upcoming book The Queen: A Life in Brief. "She has a lot invested in this couple. She thinks Kate's her girl." A Palace insider says the royal family is taking this success in its stride. "The Queen and Duke of Edinburgh are very supportive of what the duchess is doing," says a royal aide. "[Kate] is going to look and learn with the Queen."

Kate commutes between London and the house she and the prince share in Anglesey, helping children in a troop near the RAF base with their activities. "She is part of the leadership team," says a Scouts source. "She isn't hovering in the background." In addition, says a Palace insider, Kate wanted to use her place in the spotlight to raise awareness of drug and alcohol addiction by supporting Action in Addiction, a national charity with a recovery center in Liverpool. Whatever the event, making a personal connection appears to be her goal. "She seems to have fallen into it easily," says Colleen Harris, former PR director to Princes Charles, William and Harry. "I think that's because William has given her lots of support and the space to do it gradually."

Though not together, William, 29, and Kate can stay connected while he's 7,500 miles away through Skype, cell phone or "e-bluey," an e-mail communication delivered like an old-fashioned airmail letter. With new reports that William may extend his RAF tour – due to end in 2013 – to focus on his private life before turning full-time to his more public duties, royal watchers wonder if that means there'll be a pitter-patter in the palace sometime soon. "Kate is a maternal person," says Ingrid Seward, editor of Majesty magazine. "William is really, really good around children. They are both natural parents." But with the Queen's Jubilee celebration in June, the Olympics in July and August and a trip to Asia in the fall, fitting in a pregnancy might be tricky. "I don't think," says Seward, "she would want to take any risks."

Like any other RAF wife, Kate's shopping for one at the grocery store and looking after their new puppy, a 4-month-old black cocker spaniel named Lupo (which is Italian for "wolf") alone. But the newlyweds are keeping their love alive. William sent her a card and flowers on Valentine's Day, and he is ever in her thoughts; she mentioned him often at her recent appearances. During Kate's Feb. 14 hospital visit in Liverpool, a 12-year-old girl gave her a card decorated with the couple's picture. "Thank you so much," she said. "I'll make sure I show it to William when he gets back."


*Also In This Week's 'People'*
-Rihanna & Chris Brown: "Looks Like This Is The Beginning Of Them Getting Back Together"
-LL Cool J: "I Performed At…Muhammad Ali's 70th Birthday Party"
-Uggie From The Artist: "He's Known For His Snoring"
Amazing Lottery Stories: "Winning Was A Gift We Were Given To Do Somehthing Good"

Check out the new issue of People magazine, on newsstands now!