Kate Middleton Lets It Slip That She Wants A Baby Boy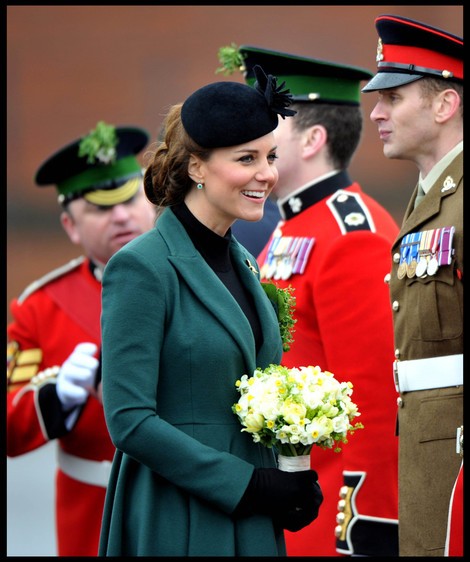 On Sunday, the Duke and Duchess of Cambridge took part in a traditional St. Patrick's Day celebration with the Irish Guards in England and let some interesting news slip about their impending arrival.
Prince William, a colonel of the Irish Guards, was dressed in traditional regalia, whereas Catherine, also known as Kate Middleton, wore a green trenchcoat on the rainy day.

Kate presented members of the first battalion sprigs of shamrocks in a tradition dating back to 1901 when it was started by Queen Alexandra. The duchess also honored the regimental mascot, an irish wolfhound, by pinning a shamrock to its collar.
The pregnant royal avoided a fall by getting her heel stuck in a grate during the event, and a soldier who spoke to the Duchess revealed some interesting news about the pregnancy.
According to reports, the soldier said: "I asked her 'do you know if it's a girl or boy', and she said 'not yet.' She said 'I'd like to have a boy and William would like a girl'. That's always the way."
Earlier this month a woman who met Kate claimed the Duchess nearly let it slip that she's expecting a girl.
The royal couple is expecting their little one to arrive in July.