Kate Hudson Talks About Pregnancy, Being Mean And Her New Movie 'Something Borrowed'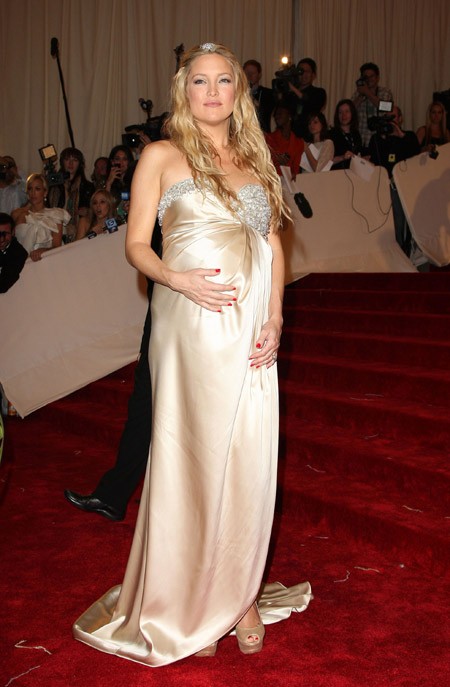 Kate Hudson is acting for two now. She was pregnant while she spoke to the press about her latest movie, but we're kidding. She won't be working again until her second child is born, and she finished Something Borrowed before she got pregnant.
This romantic comedy has a twist. Hudson plays the villain. Darcy (Hudson) seems to get whatever she wants, maybe because she never considers anyone else. She's engaged to Dex (Colin Egglesfield), but Dex has a fling with Darcy's best friend Rachel (Ginnifer Goodwin). That makes Rachel realize she's never spoken up for what she wants, even to her best friend.
This time Hudson's not the one trying to get the guy, and she's actually rude and selfish throughout, but fans of Emily Giffins books already know that. If you want to see a very different Kate Hudson, Something Borrowed opens this weekend.
Q: Was it delicious to play this woman?
KH: Yeah, she's really fun. She was fun. At the time I really didn't want to work. I didn't want to do anything but Hilary [Swank] and Molly Smith, the producers, came over and were like, "Just read the book." I didn't even look at it because I was like, "No, I'm not working, I'm not working." I started reading the book and Darcy was just such a hilarious character to me because she's just so deeply self-centered. I'd never really played a part like that before so I kind of thought, "Well, this is going to be fun." And hopefully in a sequel get to take that character and really, really turn her around. There's two books. There's a book called Something Blue and in that she is pregnant and she goes through all these hormonal changes and loses everybody and has to re-establish what she is and who she is and who she's been. It's a good book but I got excited about the character and then for this one, it was just a blast.
Q: In your various movies, how many wedding dresses do you think you've tried on?
KH: I think I'm at seven.
Q: That seems low.
KH: Let's do this. About Adam, Dr. T and the Women, Bride Wars, Four Feathers. Did I wear a wedding dress in Four Feathers? No.
Q: Was My Best Friend's Girl a wedding dress or bridesmaid?
KH: That was a bridesmaid dress.
Q: But weren't there multiple fittings in some of those?
KH: I'm missing a bunch. There's a bunch of them. Fool's Gold? Did I wear a wedding dress in Fool's Gold? No.
Q: Why didn't you want to work at that time?
KH: Because I had just finished a movie. I had just gone from doing Nine and then I went and did a film called Earthbound and then I just came home and I was ready to be home. But they shot in New York. It was one of those things where the decisions become really about where you are sometimes and where it's going to take you and the family and everything. This was just one of those things where it kind of all worked out perfect.
Q: There's always a best friend who gets the best lines. In this movie that's you.
KH: Well, she gets to say all the things that nobody else wants to say. That's why I liked this part was because she's sort of that. It is challenging to take a character that is just written very unlikeable. It was very easy to make her the villain. Then it would make it easier for them, for Dex and Rachel. I thought it was really more real and interesting if you made all the characters who they are but somewhat likeable. It makes you question the whole dilemma I think.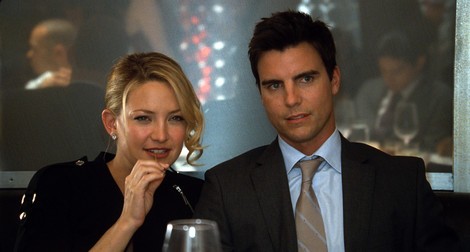 Q: Could she ever forgive her friend for this?
KH: Well, you'll have to read Something Blue. I don't know, I mean, personally, I don't know. Maybe.
Q: Can you forgive infidelity?
KH: I think that's a personal question. I think everybody has their own ideas of that. People, I don't know, for me personally, I don't know if I could. Me personally, I just say nothing's forgivable if it's not honest. It's hard to forgive. I shouldn't say forgive. It's hard to go back to something, to trust people who've been dishonest. Forgiving is actually I think an important thing to do but I don't know. I mean, you guys know all the answers. Why are we even talking about it? Everyone has their own idea. What do you think? You know, I mean, is it okay to cheat? I don't know. You know what I mean?
Q: Have you ever been used by a friend like her?
KH: Maybe because I grew up with parents who I was always watching people with my parents and I had a very good objective opinion on how people treated my parents at times, that I have a pretty good radar for bullsh**. So I don't think I've ever been in that situation really. I also have that thing where I feel like any situation you find yourself in, you have to take responsibility for it yourself. If you're in a relationship with a friend who's using you, you have to take some responsibility for not recognizing that that's what they were doing. I don't know, but no, I've never had that and I've never had a situation similar like this.
Q: Almost Famous just came out on Blu-ray. Do you have a different take on that breakout film all these years later?
KH: No, that experience was amazing. Working with Cameron [Crowe] was incredible, sort of opened a passage for me to work with some other amazing directors. I guess it's just a part of the full journey. Look, my mom's a Buddhist so we don't live in the past. That to me was just a moment and an experience that I will take with me forever. All of those experiences become a part of your fabric. That one in particular was just phenomenal, from the writing to the experience to the actors that I worked with that are still my friends. It was a very long shoot. I've only had one other movie that was as long so you really become a family.
Q: Which one?
KH: Fool's Gold. Fool's Gold was six plus months. But you know, that was just all in all, and then the critical attention it received was sort of mind blowing for me because I was young and falling in love and getting married and doing the whole awards circuit. It was all new, and it was great.
Q: Is it increasingly important to you to play roles that you've never played before like Darcy?
KH: I think now what's happening to me is I'm shifting. There's always different shifts in times in your life, especially when you have kids and now I'm pregnant and your career, really where your focuses are and stuff. Sometimes you just want to have fun and you want to play a part and you're not thinking too much about it. Now I'm kind of in that place, now meaning this was probably the last time that I would be able to do something on a whim. Yeah, I'll go make that movie, they're filming in New York. Now I'm going to have two kids and I think it really then becomes about filmmakers.
Q: How are you balancing it all?
KH: I mean it's tough if you get stressed out and allow yourself to be stressed out I think. But I think if your priorities are your kids, it's the best. All is good.
Q: Is pregnancy very different this time?
KH: Mm hmm. It's a totally different pregnancy completely. I mean, couldn't be more opposite, everything. This time I'm actually set up, whereas before, I remember with Ryder I didn't even have a nursery. I was trying to get the nursery together. I didn't really have a house until I was seven months pregnant, a home. This time it feels like I actually got to paint a nursery. I actually have a color in a room.
Q: Is it blue or pink or yellow or green?
KH: I'm going with neutral color. I don't know what it is so it's neutral. I like yellow. Yellow's a good sunny color for kids I think.
Q: Is Ryder excited about being a big brother?
KH: He is, yes, but he's already a brother. He's got a sister but yeah, now he's really enjoying it. He likes making fun of me. He's a kid, he loves it. "You're huge!" and all that kind of stuff. He's very protective. I put spicy stuff on my food, he goes, "Mom, don't eat that." I was like, "What?" He goes, "Don't eat that." This was last night. He goes, "The baby might not like spicy." I was like what is going on? All of a sudden he doesn't want me to drive a car. You shouldn't be driving. I can't get up on anything high. I got up on the thing to get his ball out and he just went, get down. He's very protective. It's pretty cute.
Q: What's the best beauty secret your mom ever gave you?
KH: Sleep. We don't talk about stuff like that. I mean, really. She's not the kind of mother who was like, "Put your face on before you go out." We've got all boys in our family.
Q: What about the dance you do with Ginnifer?
KH: "Push It?" You liked that? Oh good. When we were doing it at first, it was one of those things where I thought okay, here comes that moment in a movie where we dance. Ginny and I were like, do we really feel like… if this is bad, can we please cut this out of this movie? Then we started doing it and it brought back so many memories of doing routines as a little girl for us, for me and Ginnifer. For me it was Janet Jackson and Rhythm Nation. I remember specifically the routine that me and my friends would do to that dance and I went, "Oh, this is so what we do." It really is, at least for me and Ginny, girls who were little dancer type show girls. So it did actually end up feeling right.
Q: How long did it take?
KH: To learn how to do that? Not too long. We had this choreographer who's a really wonderful guy. It was easy and fun.