Kate Gosselin's Twin Daughters Go Silent During Awkward 'Today Show' Interview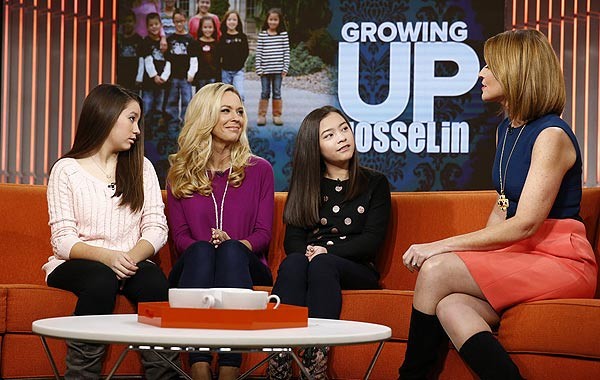 Kate Gosselin's twin daughters Mady and Cara had a lot to say in last week's issue of People magazine, in which the girls try to set the record straight and explain that they're not "messed up" after spending most of their lives growing up on television.

But on Thursday, Mady and Cara, now 13, had another chance to explain that their lives aren't what people assume, and both of them clammed up on national television.

The Jon & Kate Plus 8 stars sat down for a chat with "Today Show" host Savannah Guthrie, and despite all the recent focus on her two teenagers, Kate was the one doing all the talking.

Guthrie asked both girls questions and neither of them spoke, leaving Kate embarassed and doing her best to not explode.

"Mady, your words -- spit it out," Kate said as she snapped her fingers.

"So this is their chance to talk -- this is the most wordless I've heard them all morning," Kate said. "I don't want to speak for them but -- Mady, go ahead -- Sort of the things that you said in [People] magazine, that years later they're good, they're fine. Go for it, it's your chance."

"No, you just said it," Mady replies.

Guthrie finally gets a few words out of Cara, who says that peoples' perceptions of their lives aren't wrong, the just dont' have the "full story."

Kate's ex-husband, Jon, was interviewed later in the day on Inside Edition, where he blasted her for bringing them on TV.

""I felt horrible for them," he said.

"They're minors... You put our kids into a situation that they were not prepared for at all," he added. "They weren't allowed to be themselves."

Jon also said that the girls were holding something back.

"There was something else in the background that was supposed to come out, and for some reason, they took a moral stance by not saying anything," he said. "It was a big, big, big deal by them not saying one word."

Check out the awkwardness below...