Kate Gosselin: 'This Body Is All Real'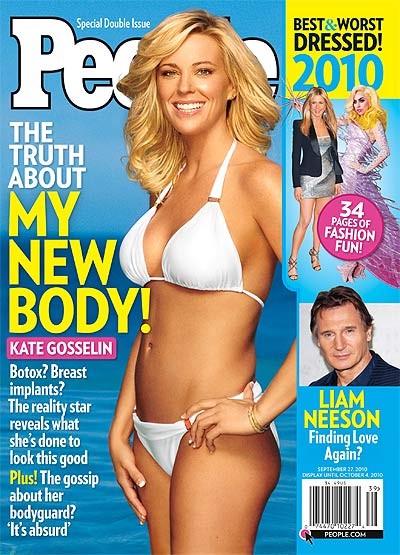 Without a trainer or a crash diet, reality star Kate Gosselin reveals her sexy new look and bikini-ready body in a recent PEOPLE photo shoot held at a beach resort in Cabo San Lucas, Mexico. In this week's issue, the world's most famous mother of eight also addresses rumors regarding plastic surgery, the "absurd" gossip about her bodyguard, and why she's still waiting for Mr. Right.

Previously more muscular and compact, Kate, 35, now has a longer, leaner physique, with impressively toned arms and abs. Of course, a tummy tuck in 2006, which removed excess skin from her pregnancies, gave her a head start in the six-pack department. The surgery, however, was far from a cure-all. First, there's the long horizontal scar left behind, which can be hidden underneath bikini bottoms. More importantly, Kate is quick to point out, "this is not what my stomach looked like after my tummy tuck," she tells PEOPLE. "That only got rid of the skin. It didn't build muscle or give me definition or burn off fat. I had to do that all on my own."

And Kate says she is doing it on her own - without the help of a trainer or, as some reports have suggested, a plastic surgeon. "This body is all real," she says. "These breasts are all mine." No implants or augmentation, and as for her bright-eyed look, she credits an over-the-counter eye serum - Ole-Henriksen Ultimate Lift Eye Gel -with the fresher face that led to whispers of Botox. "Yep, that stuff is my Botox in a jar," she says. "I started using it, and two weeks later the rumors started." She also adds, "Can you imagine if I even tried to go somewhere and have plastic surgery? I'd never get away with it; every minute of my life is photographed. If I'm going to have liposuction, I'm going to have to learn to do it myself."


This past summer she took up running, which "is a huge challenge," Kate says. "Stress relief is the main reason I do it," she admits. "The other day I achieved my personal best - seven miles in just over an hour." She adds, "I've worked really hard! Haven't I earned the right, at this point, to look good?"

Kate also confesses that she's ready for someone else to appreciate her new figure. "I'm waiting for Mr. Right," she tells PEOPLE. "It would be nice if somebody noticed me, sure! Maybe even after reading all those stories about how horrible and mean I am, somebody will be brave enough to appear, but sometimes I worry I've scared the world away….All I can say to this mystery man is hurry it up!...I'm lonely, and I need help."

When Kate headed to the Casa Dorada resort in Mexico for PEOPLE's photo shoot, she was accompanied by longtime bodyguard Steve Neild - as well as a photographer, photo assistants, hair and makeup stylists, and assorted crew members. That didn't stop websites from jumping on paparazzi photos of her with the happily married Neild and suggesting they were there as a cozy couple. "It's just absurd," Kate says. "I am completely alone - and believe me, I spend a lot of time contemplating the fact that I could be alone for the rest of my life."

But this doesn't mean she's lost hope. "I saw this really awesome guy at the airport the other day," she says. "But I looked at his finger and, of course - married! Meanwhile, some guy with a scruffy beard in a baseball cap was checking me out, and yeah, that's not the man for me." Kate explains, "The other day some guy, who I don't think even recognized me, shouted at me from his car window, 'Whoever has you is so lucky.' But that'd be nobody right now. We'll see if someone shows up."

**Also In This Week's 'People'**
-Liam Neeson Dating London Pr Exec: "I Hope She Likes Fly-Fishing!" Says A Pal 29)
-Kelly Osbourne: "There Is No Such Thing As A Diet"
-Jon Hamm's Worst Nickname: "I've Been 'Ham And Cheese' And 'Hammy'"
-People's Best & Worst Dressed 2010
Click for more great Kate Gosselin pictures: