Kate Gosselin & The Kids - A Year After The Split From Jon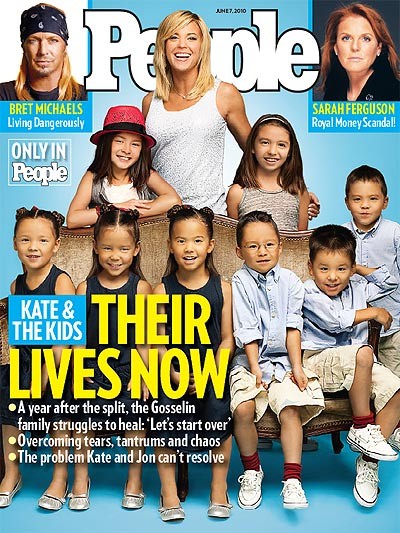 One year after Jon and Kate Gosselin's marriage began to crack in plain view of the 10 million viewers who tuned in to TLC's "Jon & Kate Plus 8," the reality star mom opens up in this week's issue of PEOPLE about how she and her eight children are adjusting. Since the split, the family has coped with divorce, long-distance separations (most recently when Kate competed on "Dancing With The Stars"), public custody struggles, and near-constant emotional upheaval. Life with Jon, says Kate, "feels like 10 years ago."

Much of the change has been painful. Even now, Kate, 35, acknowledges that things remain far from placid, citing the lack of a set custody schedule with Jon, 33, as a major source of stress. "I'm sorry to disappoint you, but it's not any calmer," she tells PEOPLE. "It just appears calmer on the surface…It's just I've had to internalize and keep quiet the rest of the stress. But it bubbles within me and it spills over, and sometimes [the kids] see it."

It's clear that the kids sometimes struggle too. "[Nine-year-old] Mady said the other night – which every kid of divorce unfortunately is going to say, and I know to expect this – 'I'm always sad. I'm sad when I'm with you because I miss Daddy, and I'm sad when I'm with Daddy because I miss you,'" says Kate, who trades off custody of the kids with Jon at the family's home in rural Pennsylvania. "I feel bad that they're torn that way. But at the same time, I still know that it's really better overall," she adds. "I've actually overheard them admit, a time or two, that yes, home is more peaceful now. And that's a good thing."

Finding her own peace has been more challenging for Kate. "I don't think I really know how to even relax anymore," she admits. "Any little shred I had of that is gone." There have been days when the fractured family's new reality has been a lot to bear. Especially difficult was the sextuplets' birthday recently on May 10th, when Jon took the kids for part of the day. "That hit me hard," she tells PEOPLE. "Sitting there, thinking, 'Six years ago I gave birth to these babies. I was probably in the NICU right now. And where are they?' That was so hard." But, she adds, "I was glad that Jon made himself available. I would never want them to not have that relationship. I would hope that it would never come to that."

Kate is relieved to be returning to reality television – she and the kids will appear in a new TLC show, Twist of Kate, in addition to several Kate Plus 8 specials – the very thing some critics feel tore apart the family in the first place. Not so, says Kate. "If we stop filming, we're missing the paycheck but not the frenzy [of paparazzi]. You've still got the negative." Looking ahead, Kate alternates between resignation to her strained relationship with Jon and optimism that things will improve. "There are moments when I do see glimpses of what a normal life might be," she says. "And I mean normal in the sense of getting used to this, feeling like I can manage this change." But, she adds, "I'm not there yet."

Also In This Week's 'People':

-Kevin & Danielle Jonas' Wedding Bliss: "It's Great Being With Your Best Friend All The Time," Says Kevin
-Bret Michaels, Living Dangerously: "If God Takes Me, Then God Takes Me. I'm Going To Live My Life"
-Sarah Ferguson's Royal Money Scandal: "She's Absolutely Devastated," Says A Source
-Only In 'People': Jake Gyllenhaal Answers Questions From 'People' Readers

Get the new issue of People Magazine, on newsstands now!