Kate Gosselin Faces A New Reality After 'Kate Plus 8' Gets Canceled: Unemployment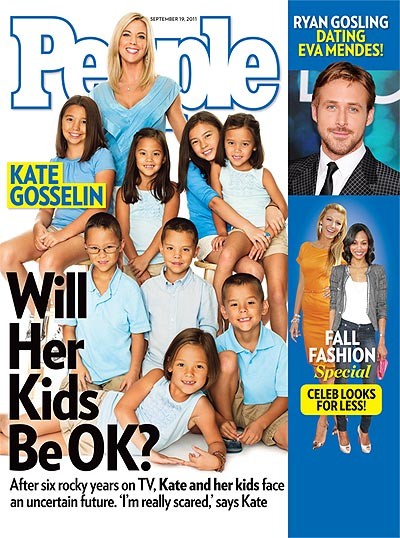 Eight kids, six rocky years on TV, and one failed marriage later, Kate Gosselin faces her off-camera future.

"I'm really scared," she says in this week's issue of PEOPLE. She insists that, stardom and scandals aside, she has "the same problems as 26,000 other moms." Ten years ago, Kate was a labor-and-delivery nurse in Reading, Pennsylvania, married to Jon, a mild-mannered network engineer. Then came twins, followed by sextuplets, and the kind of reality-TV fame (and money) that makes you a one-name celebrity. Now the cable network TLC is pulling the plug on her show Kate Plus 8 due to sinking ratings.

Welcome to Kate's new reality: unemployment. "I'm freaking out. Big time," she tells PEOPLE. "My kids weren't ready. Nobody was. I've never quit a job in my life without having something else lined up. This has been ended for me on a moment's notice. I don't know what's next."

Through it all, Kate has maintained that reality TV has not exploited her family but has been its salvation, giving her a way to amply provide for her huge brood and remain a hands-on parent. "My first thought was, 'My job is just gone? I have no job?' And my kids: How will they handle this?" The twins are now 10, the sextuplets recently turned 7 – have grown accustomed to the lavish getaways (recent destinations included Alaska and Australia) provided by the show. "Their first comment was, 'No more fun trips?' For them, no more job for Mom means no more trips, no more fun," Kate says. Yet while mourning missed vacations might seem like a luxury problem, the kids soon had tougher questions. "They started asking, 'Are we still going to be able to live in our house? Are we still going to be able to go to our school?' I was not prepared for that."

The answer, says Kate, is complicated. "I told them I will work my fingers to the bone to make sure that they can stay here and go to their school. There are no guarantees in life for anyone, but they know that I'm giving it my best shot." Kate feels it's the least she can do; providing well for her massive brood has offset the downsides of reality stardom. "They gave up some freedom, some privacy," she says of her kids' on-camera lives. "As a trade-off, we live in a great house on great property, and they go to a great school. I feel they deserve that much. I can't ever say, 'Okay, I did this to them, but now that it's over we can just go back to living in a house where we're all on top of each other.' I don't want to take away anything they've been given."

While Kate says she's saved enough to last "for a little while" (and the kids have college funds established), real issues loom. "People think we made gazillions of dollars, and we didn't. After the show was canceled, I said, 'I'll go back to my old nursing job.' If nothing comes up, I'll do it," she says. "But the scary reality is, 12-hour nursing shifts every day wouldn't let me continue to provide well for eight kids essentially on my own. When you think about it that way, it gets really scary." Yet Kate realizes some things remain the same whether a camera is rolling or not. "Tomorrow morning the nine of us will still wake up together. My family can't be canceled."

Finding a man for a romantic relationship, however, has proved difficult. "I'm not happy being alone at this point, but I'm happier being alone than I am being with someone who makes me unhappy. Next time I will have my magnifying glass out. I will not make the same mistakes." As for Jon's take on the show ending, "I haven't heard from him directly, but I hear he's pleased," Kate says tersely. (Jon Gosselin could not be reached for comment.)

Don't expect Kate to fade into off-camera obscurity. "I'd really love to find a place of my own on a talk show or something like that," she says. Whatever shape her next job takes, Kate remains certain of one thing. "I'll be back," she says. "This is too much fun not to find a way back."

*Also In This Weeks 'PEOPLE'*

-Ryan Gosling & Eva Mendes Dating!
-Carey Mulligan On Ryan Gosling: "He Can Have Fun With The Crew & Make You Laugh All Day Long"
-Paula Abdul On Simon Cowell: "It's Like A Marriage, Without The Sex"
-Emmy Insider: People's Sneak Peek At TV's Biggest Night!


Also this week:
PEOPLE celebrates All My Children with a commemorative book: "PEOPLE Celebrates All My Children," which hits newsstands Sept.9th (available in hardcover at bookstores on Sept. 27th).

The commemorative book celebrates the iconic soap opera, which is coming to an end after 41 years later this month. The 128-page book is full of dozens of new exclusive photos and interviews with the cast.