Kate Bush Assures Fans She's Not Wearing Real Fur In New Album's Artwork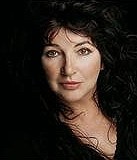 Vegetarian singer Kate Bush has reassured animal loving fans she's not wearing real fur in the posters promoting her new album.

The "Wuthering Heights" singer recently posed for a series of photos to advertise the release of her latest record, "50 Words For Snow," and she felt compelled to defend the artwork on her official website ahead of its release next month - because she's afraid her clothing selection may cause unwarranted outrage.

She writes, "We have recently taken some photos and I just want to pre-empt any concerns there might be, as I'm sure most of you will feel the same way as I do about wearing real fur. All the fur in these photos is synthetic."