Kate Beckinsale, Zoe Saldana, Emily Blunt And Reese Witherspoon Sizzle At The Inaugural LACMA Art + Film Gala Honoring Clint Eastwood (Pics)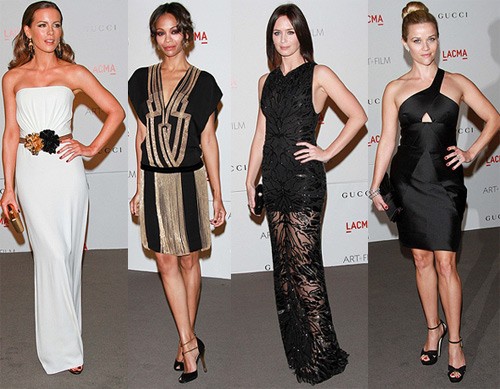 Kate Beckinsale, Zoe Saldana, Emily Blunt and Reese Witherspoon brought their glamor and style to the red, er - grayish-brown carpet Saturday night to honor Clint Eastwood and conceptual artist John Baldessari at the 2011 LACMA (Los Angeles County Museum of Art) Art + Film Gala.

Leonardo DiCaprio, who stars in Eastwood's latest, J. Edgar (about FBI director John Edgar Hoover) co-chaired the event with Eva Chow (wife of famed restaurateur Michael Chow), who spoke to reporters about the inaugural event, which saw some of the biggest A-list stars come out and raise money for the museum's revitalized film program.

"Clint Eastwood is such an amazing filmmaker," says Chow. "I can't think of anyone who can cross over between the front and back of the camera at the level he's been doing it for most of his life. I think he represents the word 'cool,' and I can't believe we are fortunate enough to honor him at our first gala."

Stars including Kate Hudson, Zac Efron, Mickey Rourke and Uma Thurman were also in attendance.

Who do you think looked best? Leave us a comment!