Kate Beckinsale Wears A Daring, Reptilian-Like Dress To 'Total Recall' Premiere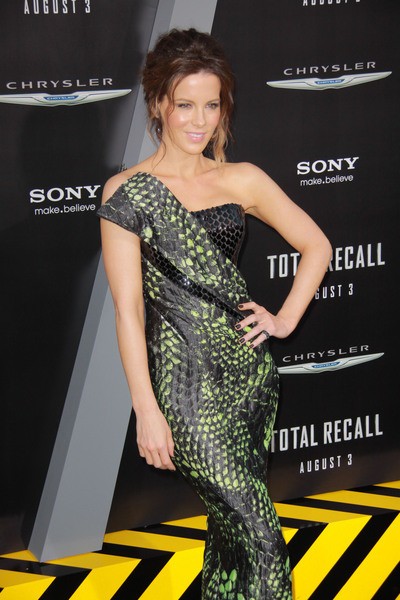 Kate Beckinsale made a fashion statement at the "Total Recall" premiere in Hollywood on Wednesday. The actress slithered down the red carpet in a textured green and black dress that looked like it was made of snake skin.
Few actresses could pull off a dress like that and make it look good, but Kate managed to do so.
In the remake of the 1990 Arnold Schwarzenegger film, Kate has a fight scene with Jessica Biel. Beckinsale recently told Allure magazine, "It's not like a naked, porno, mud-wrestling-in-a-bar sort of fight, it's a real fight."
Beckinsale's husband Len Wiseman directs the film about a factory worker with a stable job and a loving wife (Beckinsale) who learns that a company called Rekall could grant him the memory of the ultimate espionage adventure. But while having the memories implanted, something goes very wrong, and he becomes a wanted man.
See more photos of Kate at the premiere...