Kate Beckinsale Supports Literacy Crusade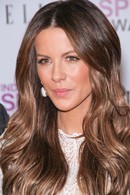 Actress Kate Beckinsale took time out from her busy schedule on Thursday to entertain children in Los Angeles as part of National Reading Month.

The Underworld star headed to the city's Barnes & Noble store to read to kids in conjunction with The Nestle Share the Joy of Reading Program, which is donating up to $250,000 to the Reading Is Fundamental (RIF) organization.

Beckinsale talked about her own love of literature with the youngsters, and she hopes the scheme will encourage children to build up their book collection.

She says, "As a mum and a big reader, I am excited to be participating in The Nestle Share the Joy of Reading Program to benefit Reading Is Fundamental."

"Reading has had an enormous, positive impact on my life and I encourage people to support organizations such as RIF that work to ignite a child's hunger for knowledge and inspire imagination."

"I can't think of a better time than National Reading Month to encourage everyone to read."