Kate Beckinsale Rocked The Red Carpet At The 2012 Grammy Awards (See Pics!)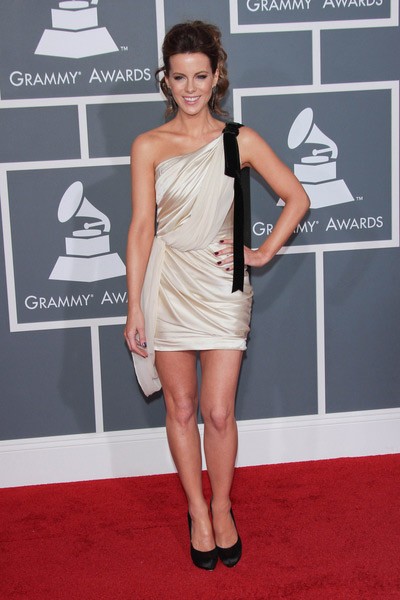 Asking if Kate Beckinsale could be more beautiful is like asking if something can be "more perfect" than it already is.

The gorgeous Underworld: Awakening star had about a minute of screen time doing her duty as a presenter at this year's Grammy Awards (she co-introduced Katy Perry's performance with host LL Cool J) at the Staples Center in Los Angeles, and that was surely enough to get the blood flowing in living rooms across the country.

The actress, accompanied by daughter Lily Mo Sheen, looked stunning in a short cream colored Zuhair Murad dress on the red carpet before the show.

Beckinsale, along with prolific filmmaker Clint Eastwood, will be honored by the Costume Designers Guild later this month. She'll receive the prestigious Lacoste Spotlight Award for her sense of style; while Eastwood will receive the Distinguished Collaborator Award with his long-time set designer partner Deborah Hopper.

The CDG Awards will be held February 21 at the Beverly Hilton Hotelin Beverly Hills, Calif.

The hotel has been at the center of Grammy news lately, as it's the venue where music mogul Clive Davis holds his annual pre-Grammys party; and, sadly, it's also the hotel where Whitney Houston passed away this past Saturday afternoon.

See more pictures of Kate on the next few pages. What do you think of Kate's look? Let us know in the comments below!