Kate Beckinsale Is Drop-Dead Gorgeous At The German Premiere Of 'Underworld: Awakening'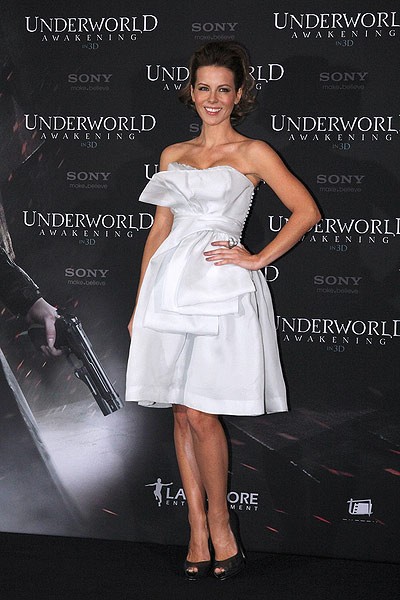 Kate Beckinsale, who reprises her role as the sexy, leather catsuit-clad vampire Selene in Underworld: Awakening, was busy in Berlin, Germany promoting the film Wednesday night.

The stunning actress looked absolutely gorgeous in a Christian Dior dress from the designer's Spring 2012 collection.

Beckinsale, who didn't appear in the third film in the saga, Underworld 3: The Rise of the Lycans, was hesitant to return to the role that made her famous.

"I really wasn't intending to do another one. I kind of always heard that it was a trilogy and that was that," she says. "I didn't like the idea of rehashing the same whole thing too much. I've never played the same part even twice before. So I thought that doing it for the third time was like, 'Where would you take it where it is worth doing?'"

But husband and Underworld co-creator Len Wiseman convinced her to put on the skin-tight black leather again for the latest installment, which rocked the box office on its opening weekend, taking the top spot and grossing $25.4 million.

Underworld: Awakening finds 'death dealer' Selene awakened after being cryogenically frozen for 12 years only to find that humans have learned of the existence of vampires and lycans (werewolves) and have a plan to eradicate the two species.

The film opened January 20th here in the States, but Germans will have to wait until Feb. 2 to see it.

Check out the trailer and more awesome pics of Kate below!