Kat Von D Leaves 'Miami Ink' For 'LA Ink'

Tattoos are going bicoastal as TLC provides more of what viewers love with August premiere of the new series
LA Ink
, featuring
Kat Von D
. A spin-off of TLC's highly rated and youngest skewing show
Miami Ink
, the catalyst for
LA Ink
was months of in- fighting between artists Ami James and Kat Von D that results in a dramatic showdown featured in the season finale on Tuesday, May 8 at 10 p.m. ET.
In each of the last few riveting episodes leading up to the finale, the tension becomes visible, tempers flare and terse words are exchanged, culminating with Kat Von D leaving the shop and moving back to Los Angeles.
TLC smashed the taboo of tattoos with the genre-setting series
Miami Ink
. A breakout success since the premiere in 2005, the demand for more tattoo related programming has grown exponentially. With
LA Ink
, TLC breaks down the stereotypes of a tattoo artist further by featuring several strong, independent working women.
"Kat Von D is a legitimate television star who has remained a true artist and authentic personality in the tattoo community," says Christian Drobnyk, senior vice president of programming for TLC. "Kat's tremendous talent, dedication to her fans and compassionate heart make her the perfect person to anchor
LA Ink
."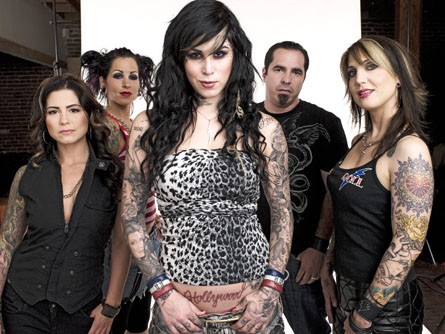 LA Ink
digs deeper into the tattoo culture and the artists behind it, capturing more stories behind the tattoos and life in and out of the newest and hottest tattoo shop in Los Angeles, owned by Kat Von D. The new shop has a distinct rock-n-roll flavor reflecting Kat's personal style. Filled with gorgeous black and white photography and memorabilia signed by legendary rock artists and professional athletes,
LA Ink
has a glam-rock feel that is inviting to celebrities, athletes, rockers and regular people alike. Adding to the cache are the four other artists, including three women, giving
LA Ink
a uniquely female touch in a male dominated industry.
Since leaving
Miami Ink
, Kat Von D moved back home to Los Angeles to be closer to her family and friends and made one of her dreams come true by opening a tattoo shop in the city that she loves.
"I love L.A.," enthuses Kat Von D. "The amazing weather, art, music, shopping, diversity, people and action - it's just rad that I got to open a shop here. As far as the guys at Miami Ink go, I appreciate everything they did for me, and I wish them all the best! Working with them, I was able to learn some really important life lessons, and am excited about using these lessons in all my future endeavors!"
While
Miami Ink
won't be quite the same without Kat Von D, the boys are rejuvenated and already filming the third season of
Miami Ink
, which returns on Tuesday, June 12th at 10PM ET. Filled with more intricate tattoos, the stories behind them, nudists, Satanists and trips to Las Vegas, NV and the Aleutian Islands in Alaska, the new season of
Miami Ink
promises to offer more adventures than ever before.
-
Kat Von D gallery
-
LA Ink pictures
-
Miami Ink Photos