Karyn White Makes Her Comeback with 'Carpe Diem'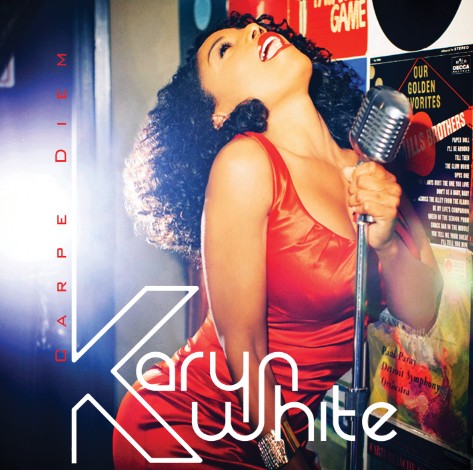 "I couldn't even think or dream of anything else," said Karyn White of what drew her to music. A multiple Grammy nominee and NAACP Image Award winner, she stepped away from performing in 1994 to focus on her family, but now she's roaring back with the new album Carpe Diem. The singer and entrepreneur recently spoke to BFTV about what made it the right time for her to return, and what she's learned from the journey of her career.
Karyn was not only a successful singer, but also writer and producer from the 80's to mid 90's, She released her self-titled debut EP in 1988, and it was certified Platinum, reaching the top spot on the Billboard R&B chart. Another album, 1991's Ritual of Love, went Gold. She cultivated a fan base both domestic and international, including Japan, the UK and Canada. Yet she put down the microphone and found a second career in interior design and real estate. Once her daughter went off to college at Howard University, however, Karyn decided upon a return to music - one that's kicked off by the arrival of her new album, Carpe Diem.
"I've grown and so it was more of an excitement," she said when asked if she felt any pressure stepping back into the spotlight. "I know who I am even more. I'm living what I'm speaking about in my music. [That] just gave me a whole other confidence. I feel like there's a whole bunch of ladies in their 30's and 40's that can identify with me."
Yet Karyn is also quick to point out that for all the things she's accomplished, she could not be as successful as she is alone. ""I have a great team," she explained. "A great manager, assistant, publicist, my daughter helps me - and I think it starts there. It's not just me."
She's definitely ready to make her presence felt. Carpe Diem is a reflection of Karyn's growth as both an artist and a woman. There's the motivating song "Seize the Day"  and the empowerment track "Unbreakable," which she says "is really where I am. I'm never going to let anyone or anything break my spirit." She's also proud of "My Heart Cries," which is "an amazing composition about being a woman." The disc also contains her cover version of Cyndi Lauper's "True Colors."
The album showcases her identity as a strong woman with the benefit of both professional and life experience. "People don't realize your youth is hard because you're trying to find it. We really compete with ourselves," she explained. "My production, my whole brand, I knew who I was. And it was easier than ever."

The new Karyn White is not just a musical artist, but continues to be a multi-hyphenate, with a brand that goes across countries and platforms. With the release of the album, she's also going back out on tour, having visited Japan and on her way to Africa and Europe before she travels the United States. In addition to that, she's hitting the small screen, with both a TV pilot and a reality TV series. And there's a companion book to the new album, also entitled Carpe Diem. There's nothing Karyn won't try, and she encourages other artists to not let anything hold them back, either.
"I definitely want to always encourage entrepreneurship and ownership," she said. "I have a heart for people in this industry trying to make it. Always believe in yourself and don't rely on anyone else for that. Don't measure your success based on finances, measure it based on the happiness in your heart."
"Don't let anyone ever tell you that you can't do anything. Go after your dreams. I don't care if you've had it all, been there, made mistakes, you have to seize the day. It is the time," she continued. "I'm so excited because there's so many talented musicians and entertainers who never get the opportunity in today's world. Now you can create the opportunity. I respect that, I honor it and I'm excited. Music can only get better because it's in the right hands of true artists."
Artists like Karyn White, who is back in a big way, and this time she's going to be making headlines for a long while to come.
You can keep up with Karyn at her official website (karynwhite.me), on Twitter (@Karyns_World), and on Facebook (KarynWhiteMusic). Carpe Diem is on iTunes and Amazon now.
For more from Brittany Frederick, visit my official website and follow me on Twitter (@tvbrittanyf).
(c)2013 Brittany Frederick. Appears at Starpulse with permission. All rights reserved. No reproduction permitted.