Karissa Shannon Actually Has An Intelligent Thing To Say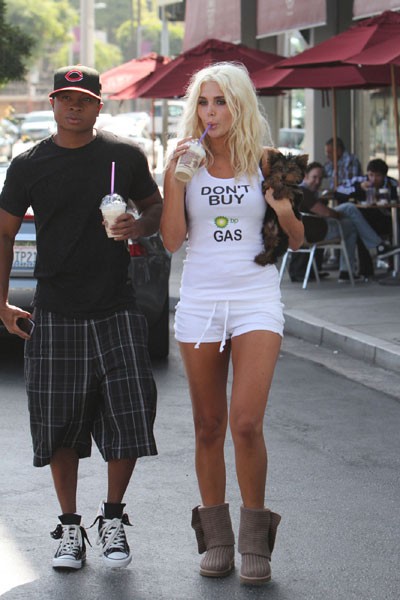 Model Karissa Shannon made a political statement on her t-shirt while out with her boyfriend Sam Jones III in Hollywood yesterday. Karissa was showing her support for the victims of the Pacific oil spill.

The former "Girl Next Door" and Hugh Hefner's ex-girlfriend grabbed a drink from Coffee Bean and carried her pet pooch. 
Karissa and her twin sister Kristina were kicked out of the Playboy mansion earlier this year for dating other men.

Karissa said in May, "After a couple of weeks, Hef was getting a little bit upset about the boyfriends, so he wanted us to move out. We were not allowed to have boys in the house. That was the absolute number one rule - no boys allowed. That was one of the main reasons we moved out. But living there and being seen out with other guys, (Hugh) was tripping."
See photos of Karissa and Shannon here!