Karina Smirnoff Postpones Her Wedding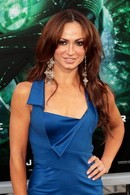 Celebrity dancer Karina Smirnoff has confirmed reports she and baseball star Brad Penny have postponed their wedding - so they can spend more time together without the stress of planning a big day.

The Dancing With The Stars regular has been too busy on the hit TV show, where she's among the favorites to win, to start planning a wedding, and Penny has been caught up in post-season, play-off baseball.

Smirnoff tells Life & Style magazine, "I never expected to have such an amazing partner (on the show) this season (war hero J.R. Martinez)... and Brad's been gone for, like, over two months because he's playing."

Penny's team, the Detroit Tigers, were knocked out of the MLB Play-offs by the Texas Rangers over the weekend.

Karina and Brad, both 33, began dating in October, 2009, and got engaged last year.