Kari Wahlgren on the 'Kaijudo: Rise of the Duel Masters' Season Finale
The Hub's Kaijudo: Rise of the Duel Masters is reaching the end of its first action-packed season, and to celebrate and reflect back on all the adventures, Digital Airwaves recently connected with star Kari Wahlgren, one of the leading ladies of animated television.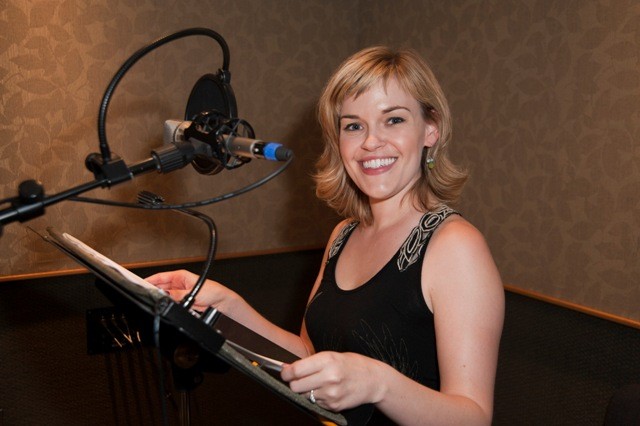 "I'm very excited about the finale," said Kari, who voices Kaijudo's main heroine Allie Underhill as well as several other characters on the show. "It's pretty cool. It's got a lot of action in it. It plants some good teasers [for season two]. I think they did a nice job of kind of sending out the first season with a bang."
Though a potential season two is still very much under wraps, she has a few thoughts on what she would like to see for Allie if the adventure continues. "I do have ideas," she said. "I would love to see them explore more of her layers and kind of just delve into her relationships a little bit more."
Kaijudo has given Kari the opportunity to record with a cast of fantastic voice actors, including the likes of Phil LaMarr (Futurama), Scott Wolf (V), David Sobolov and Andrew Kishino, which she enjoys. "It is a great group," she explained. "We've got Scott Wolf, we've got Phil LaMarr who's done tons of voiceover work, Dee Bradley Baker, David, Andrew, it goes on and on and on. We've got this amazingly talented cast and that automatically ups the excitement and the energy and the quality of the show."
"It's been a lot of fun this season," she continued. "You don't always get to record as a cast and we've actually been able to record as a group for most of the episodes. You get the whole gang in there and you get to play off each other."
Yet Kari belongs in that class of accomplished voice actors herself. Her resume includes all kinds of animated projects, from FX's Archer to Disney's Phineas and Ferb and Nick's Wolverine and the X-Men. Asked what other role she'd point interested Kaijudo fans toward, "It's hard to pick," she admitted with a laugh. "I did love Super Robot Monkey Team Hyperforce Go! which was a cross between an anime and a Western cartoon. That was kind of a sentimental favorite of mine. I wish we would've done more episodes of that.
"Right now I'm working on some stuff that's pretty exciting as well," she added. "I'm doing Kung Fu Panda: Legends of Awesomeness on Nickelodeon and having an amazing time with the cast of that show."
Though she never intended to become one of the queens of voice acting, Kari has enjoyed working behind the microphone "Probably because I'm a nerd myself. I love cartoons, I love comic books and graphic novels," she said. "Batman: The Animated Series was a huge influence on me when I was younger. I own all of those on DVD and just love those.
"I'm a big fan of all of the major Disney movies. I've been watching those since I was a kid - everything from Snow White to the Tinkerbell movies that are coming out now. I make it a point to try and watch a little bit of everything."
"I always knew that I wanted to do voiceovers as part of my career," she continued. "I just kind of didn't expect it to take off the way it did. I couldn't be happier. I love the chance to play so many different characters every day."
As someone who's spent so much time around the world of animation, Kari is deeply appreciative of the fans - not simply the fans of Kaijudo but those who love the art form in any fashion. "I always love to tell the fans how much I appreciate them," she added. "It amazes me that they find me or that they find the shows [I've done] and it means a lot, it really does."
"The people that are fans of animation are really the people that are keeping the art form of animation alive," she said. "If you like cartoons. support the cartoons."
You can keep up with Kari on Twitter (@KariWahlgren). The Kaijudo season finale airs today at 11 AM PT/2 PM ET only on The Hub. A preview clip is below.
For more from Brittany Frederick, visit my official website and follow me on Twitter (@tvbrittanyf).
(c)2012 Brittany Frederick. Appears at Starpulse with permission. All rights reserved. No reproduction permitted.