Kareem Abdul-Jabbar Pays Tribute To Leslie Nielsen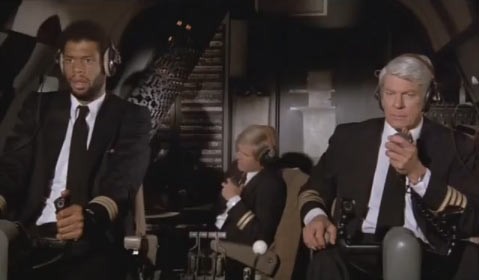 Today in his blog, Kareem Abdul-Jabbar paid tribute to Leslie Nielsen who died yesterday at the age of 84. Kareem played a small role and worked with Nielsen in "Airplane!" (1980). Most will agree "Airplane!" was the mother of all spoof movies. Here is Kareem's blog post:
"For me, it was a real pleasure to know and work with Leslie Nielsen. He was a consummate professional when the cameras were rolling. And during down time he was a notorious practical joker. He would often engage the casual acquaintance in what seemed to be a serious conversation while he manipulated a whoopie cushion causing that person to look around and try to figure out what exactly was going on. He did this to me the first time I met him when he started talking about the food they served on the set in disparaging ways and I got real quiet until I noticed he had his hand in his pocket on the device, which made me break out into a big grin as I figured out his antics. He kept everybody in a light mood and made the set the alot of fun so that we could all make a great movie together. I don't think anyone who ever worked with him will ever forget him. Making Airplane was a great experience for me and Leslie helped make it very special.  He will be greatly missed."