Kanye West & Kim Kardashian: Are 'Bitch' & The 'N-Word' Different?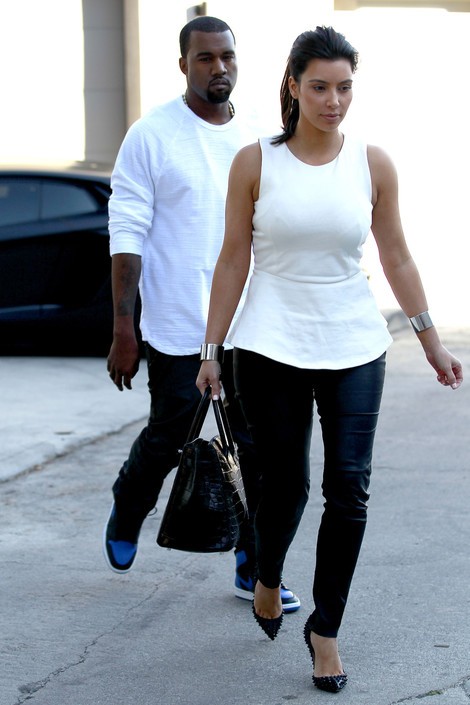 Wow, that Kanye West sure knows the way to a woman's heart. 
The rapper wrote a song titled, "Perfect Bitch," on his upcoming album, "Cruel Summer," that is said to be dedicated to his girlfriend, reality star, Kim Kardashian.  How much you want to bet K.K. is flattered by it all, "Hey, I'm his perfect dog!"  By fall, the song will probably be nearly every woman's anthem as they're bobbin' their heads to the beat with their boyfriends in their cars.  
According to Billboard.com, the song was reviewed at NYC's PH-D Rooftop Lounge Saturday morning.  The rapper immediately tweeted, "I wrote the song Perfect Bitch about Kim." Sources who heard the song say that tiny specs of ex-girlfriend Amber Rose are throughout the track as well.
A female reporter stated earlier that, "Perfect Bitch" shows that it's about Kanye's quest to find the perfect woman. Um....no... it isn't.  He has told us in a song that he is only interested in perfect "bitches." Womenhiphoprb.com identifies this as a woman not ready to come to terms with how damaging this is to the female gender.
Are men in hip hop trying to tell us that what they did with the, "n-word," trying to take the sting out of it through repeated usage, it will no longer be offensive? Is it the same tactic they're using for "bitch?"  That is not a legitimate claim.  One reason: Black people have a huge problem giving anyone who isn't Afro-American the freedom to use the "n-word."  But men are now telling women that they [men], a gender who doesn't share the same gender issues, want to have the right to call women, "bitches." 
This is worse than R. Kelly's 1990's hit, "You Remind Me Of Something"...my jeep!  Being compared to an object, not even a living thing, was bad enough.  But as womenhiphoprb.com stated, women change the narrative only when men say it's okay to do so.
It cannot, and will not, be said that Kim Kardashian should be offended, but a conscious woman, a woman who is conscious of her surroundings, surely would be.