Kanye West Axed From Music Festival Line-Up Down Under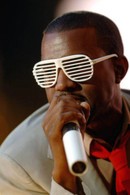 Rapper Kanye West has been dropped from three legs of a multi-venue music festival Down Under, reportedly due to financial cuts.

The hip-hop star was previously scheduled to perform at all of the Big Day Out concerts, but he will no longer appear in Perth and Adelaide in Australia or in Auckland, New Zealand - the three cities where declining ticket sales have seen the festivals downsize.

Organizers claim the line-up change is down to a restructuring of the events, with a spokesperson telling Australian ABC News, "For our 20th year, we have chosen to rebuild the Perth and Adelaide events from the ground up, with a goal to recapturing the magic of early Big Day Out shows. We are not just moving the show to a more suitable venue, but changing the entire design."

Festival-goers are able to exchange their tickets for the other events at the Gold Coast, Sydney or Melbourne, where West will still perform.

British rocker Noel Gallagher has also joined the line-up, which sees the former Oasis star billed alongside other acts including My Chemical Romance and Soundgarden.