Kanye West And Taylor Swift Together Again At VMAs?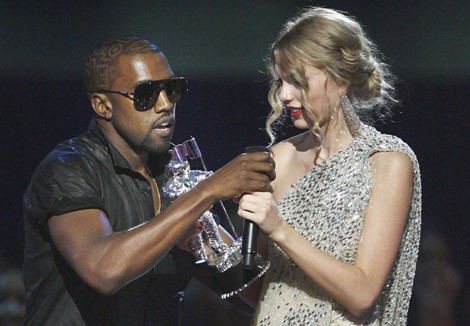 Following up on a story we broke yesterday where Chelsea Handler announced she is hosting this year's MTV VMA's, the New York Post said Chelsea talked to mega DJ Ryan Seacrest regarding her upcoming hosting gig and said she wanted to get Kanye and Swift reunited when she hosts. 
"I want to go and film some ridiculous stuff, and see if we can do something with Kanye, because I always talk about Kanye." she said. "I'd like to get them together. We've never really seen them together since then. They were supposed to be together on 'SNL,' but then that didn't end up happening,"  She goes on to say "We'll try to think of something clever to do with them, because that would be really fun,"
I think this is a great idea.  It would help repair his image and show that they both have no hard feelings and can make fun of a bad situation.  Of course I think the joke should be on Kanye.  Swift deserves to give him a ribbing, even if it's for laughs and ratings.
This all stems from a stunt Kanye pulled at last years VMA's where he interrupted Swift's acceptance speech and told everyone that Beyonce had the best video ever and the award should go to her which you can see here.
This years VMA's air Sunday, September 12.