Kanye West And Baby North Nap, Jay-Z Carries Blue Ivy On Father's Day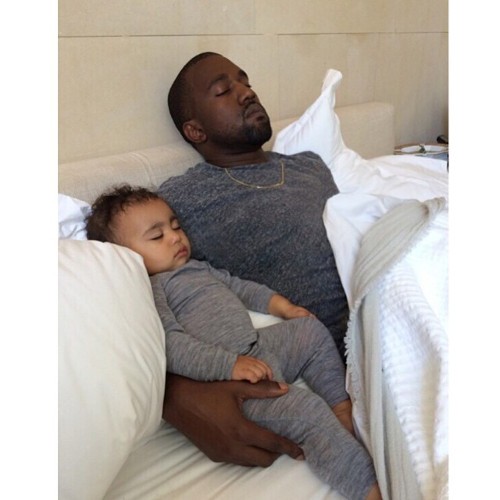 Kim Kardashian had the perfect Father's Day photo to share: Kanye West enjoying a nap with his daughter North on her birthday.
North turned one on the 15th, the same day as Father's Day, and she ended the day relaxed with her father to watch the NBA Finals game that evening. Judging by the photo, it looks like neither of them made it through the game.
Kim wrote as a caption, "This is what life is about! Our baby girl turned 1 today! We played so hard they passed out while we were watching the game! Happy Father's Day to the best daddy in the world! The way you love our daughter and protect her makes me filled with so much love! #BestDayEver #Twins #HappyFathersDay #HappyBirthday."
Suffice to say, we can definitely see the family resemblance.
Meanwhile Kanye's BFF (feud notwithstanding) Jay-Z was featured in a father's day photo as well. Beyonce uploaded a snap of Jay carrying daughter Blue Ivy on his shoulders while out on a walk. "Happy Happy Father's Day," Beyonce wrote.