Kaleidoscopic Ode To Life And Love Is Served On DVD Feb. 5 In 'Feast Of Love'

Explore all the funny, sad, sexy, crazy, heartbreaking and life sustaining facets of love when MGM Home Entertainment's
Feast Of Love
debuts on DVD February 5, 2008. From Academy Award®-winning director Robert Benton (
Kramer vs. Kramer
,
Places In The Heart
) and based on the National Book Award-winning novel by Charles Baxter,
Feast Of Love
is a "rare movie to cuddle up to" (
Time Magazine
) that "delivers an ode to love that is witty, grown-up and profoundly humane" (
O, the Oprah Magazine
). The film features a stellar ensemble cast, including Academy Award®-winner
Morgan Freeman
(
Million Dollar Baby
,
Driving Miss Daisy
), Academy Award®-nominee
Greg Kinnear
(
As Good as It Gets
,
Nurse Betty
),
Radha Mitchell
(
Finding Neverland
,
Melinda And Melinda
),
Selma Blair
(
Cruel Intentions
,
Hellboy
),
Alexa Davalos
(
The Chronicles Of Riddick
,
The Mist
) and Academy Award®-nominee
Jane Alexander
(
Kramer vs. Kramer
,
Testament
).
In a coffee shop in a tight-knit Oregon community, a local professor (Freeman) witnesses love and attraction as he whips up mischief among the town's residents in a remarkable story in which no one can escape being bent, broken, befuddled, delighted and ultimately redeemed by love's inescapable spell.
Academy Award®-winner Morgan Freeman (Best Supporting Actor,
Million Dollar Baby
) and Academy Award®-nominee Greg Kinnear star in this funny, uplifting tale of passion and romance. At The Fresh Pot coffeehouse, love is in the air and everyone seems to be falling under its delightful spell. From Bradley (Kinnear), the hopeless romantic who looks for love in all the wrong places; to Harry (Freeman), a local professor with the wisdom and experience to guide those close to him; to young, beautiful Chloe
Alexa Davalos
, who falls head over heels for the quiet dreamer Oscar (Toby Hemingway). Directed by Academy Award®-winner Robert Benton, this celebration of life and love in all its funny, sexy, crazy facets will touch your heart and leave you laughing.
Special Features:
Feast Of Love will be available in both widescreen (2.35:1 aspect ratio) and full screen (1.33:1 aspect ratio) versions with English Dolby 5.1 Surround Sound, English DTS, Spanish and French Dolby Surround, as well as English, French and Spanish subtitles. Bonus materials include:
- Audio Commentary from director Robert Benton
- "What Fools These Mortals Be" featurette
- "A Merry Feast" featurette
- "The Players" featurette
- "Honestly" performed by The Cary Brothers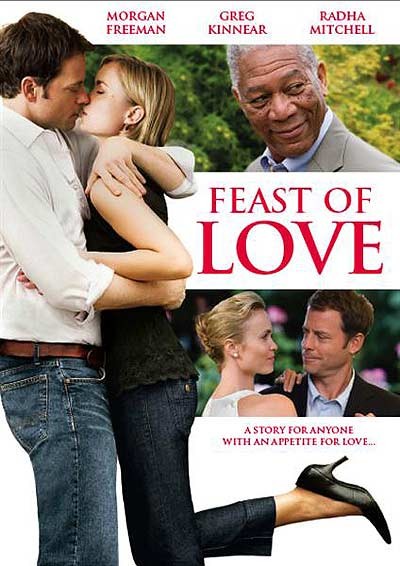 About Metro-Goldwyn-Mayer Inc: Metro-Goldwyn-Mayer Inc., through its operating subsidiaries, is actively engaged in the worldwide production and distribution of motion pictures, television programming, home video, interactive media, music and licensed merchandise. The company owns the world's largest library of modern films, comprising around 4,100 titles. Operating units include Metro-Goldwyn-Mayer Studios Inc., Metro-Goldwyn-Mayer Pictures Inc., United Artists Films Inc., Ventanazul, MGM Television Entertainment Inc., MGM Networks Inc., MGM Domestic Networks LLC, MGM Distribution Co., MGM International Television Distribution Inc., Metro-Goldwyn-Mayer Home Entertainment LLC, MGM ON STAGE, MGM Music, MGM Worldwide Digital Media, MGM Consumer Products and MGM Interactive. In addition, MGM has ownership interests in international TV channels reaching nearly 120 countries. MGM ownership is as follows: Providence Equity Partners (29%), TPG (21%), Sony Corporation of America (20%), Comcast (20%), DLJ Merchant Banking Partners (7%) and Quadrangle Group (3%). For more information, visit www.mgm.com.
A recognized global industry leader, Twentieth Century Fox Home Entertainment LLC (TCFHE) is the worldwide marketing, sales and distribution company for all Fox film and television programming on VHS, DVD and Blu-ray Disc (BD) as well as acquisitions and original productions. The company also releases all products around the globe for MGM Home Entertainment. Each year TCFHE introduces hundreds of new and newly enhanced products, which it services to retail outlets from mass merchants and warehouse clubs to specialty stores and e-commerce throughout the world. Twentieth Century Fox Home Entertainment LLC is a subsidiary of Twentieth Century Fox Film Corporation, a News Corporation company.