Kaitlyn Dever Heads For Big Screen With 'Short Term 12,' 'Spectacular Now'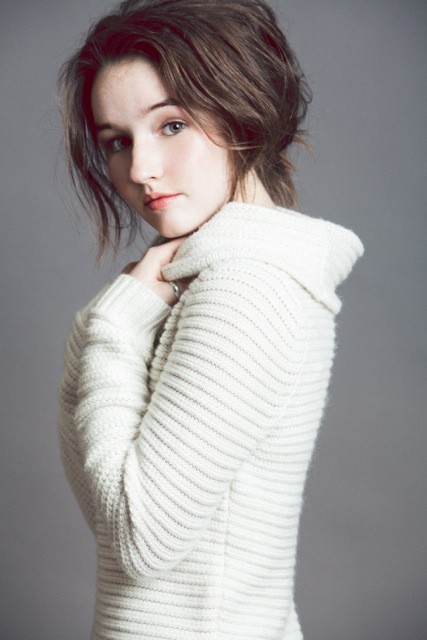 There's nowhere to go but up for Kaitlyn Dever. She's one of the stars of the popular ABC sitcom Last Man Standing, which will premiere its third season on September 30. She's also scored roles in not one but two upcoming films, Short Term 12 and The Spectacular Now. Kaitlyn sat down with BFTV on Friday to discuss how the two movies show a different side of her than we've seen before, and if she feels like her career is on the rise.
People who are used to seeing Kaitlyn as youngest daughter Eve Baxter on LMS will be surprised by the role she takes on in Short Term 12. as Jayden, a new arrival at a foster-care facility who clashes with supervising adult Grace (played by Brie Larson). "My character, she's a very dark character." she explained. "She has a very tough life and a lot going on around her and then also just internally. Her dad abuses her and her mom's not in the picture. I think she's somewhat depressed about her life and what she has to deal with. When she goes to the facility. she's really not enjoying life. She goes through a lot of emotions through the whole movie. It was such a challenge to play her, but it was awesome."
The role demanded a lot of the up-and-coming actress. "There's this really intense scene that I have where my dad doesn't pick me up for my birthday and I freak out about it," she revealed. "I start freaking out. and Brie, John [Gallagher Jr.] and Rami [Malek], their characters come rushing over, and I start screaming and hitting them, and I have to shove a cupcake in Brie's face. It was a very intense scene."
That hard work paid off, as Short Term 12 was recognized with the Grand Jury Narrative Feature and Narrative Audience Award at the 2013 SXSW Film Festival. "Being at SXSW was definitely a great experience," Kaitlyn told us. "Just being there with the cast of Short Term 12 was so awesome. They've become like my family and we're always hanging out. And Austin is such a great city. We were all so amazed that we won the Grand Jury Prize. We were all like crying."
It was one of two films Kaitlyn had showing at SXSW; she also has a part in the comedy-drama The Spectacular Now, which reunited her with Short Term 12 star Brie Larson. And she's not slowing her progress in the film world, either, with a pair of other projects already in the books. "This summer I was able to shoot two movies on my hiatus," she said. "I shot a movie for [director] Lynn Shelton called Laggies. I worked with Keira Knightley. I'm kind of like the comic relief of the movie; [that] was a really fun character to play.
"And a couple weeks ago I finished on a movie called Grass Stains and that's more of a drama," she continued. "It's about this boy [played by Tye Sheridan] who is discovering his first love. He's involved in this innocent prank with his two best friends, and it has to do with my brother's death. And I don't know anything about it. The whole movie is sort of a love story between me and Tye's character. It's a very special script."
Both these movies are in contrast to the comedic work that she does on television, which wasn't an intentional choice on her part, but she appreciates it. "I've always wanted to show people that I can do drama and comedy, because I love to switch it up. I love to do different things," she explained. "I was shooting Short Term 12 during the shooting of [my] sitcom. It was a lot of switching around [and] I love doing that. I love to be the 15-year-old sarcastic regular teenager, and then go do this other character that's dark and depressed. I like to not be myself."
Still at work on the third season of Last Man Standing, Kaitlyn told us that she thinks she's moving up in the industry. "I feel like I am," she said. "I've been very blessed with all that I've done in a short amount of time. I feel very accomplished with what I've been able to do in the past two years. I feel like I want to stick to film later on. If you look at Jennifer Lawrence's career, she started off on a sitcom [The Bill Engvall Show], and then she moved on to win an Oscar."
"I'm just loving every minute of [my career]. Every minute I think is so cool. Everything I do, I feel like 'Someone pinch me,'" she reflected. Asked to name the best part of her journey so far, she said, "I feel like it's usually just the people I meet. It's like 'Wow, I can't believe I have the privilege to work with these actors.' But this summer was a really great summer. Grass Stains was pretty awesome because it was my first lead in a movie. And also Short Term 12, and its success and everything it's doing." Whether it's on the big screen or the small one, it's clear that this is just the beginning of Kaitlyn's success story.
Short Term 12 is now playing in limited release; the film opens nationwide on August 30. The Spectacular Now arrives on August 28.
(c)2013 Brittany Frederick. Appears at Starpulse with permission. All rights reserved. No reproduction permitted. Visit my official website and follow me on Twitter at @tvbrittanyf.