Kaiser Chiefs Let Fans Design Their New Album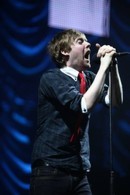 British rockers Kaiser Chiefs are letting fans design their own unique version of the band's new album by picking the songs and creating the cover art.

The I Predict A Riot hit-makers launched their latest record The Future is Medieval online on Friday and the group is pioneering an innovative new technique to entice their followers to download from the band's official website.

Fans can choose 10 songs from 20 available to compile their own track list and then make their own customized album cover. Once they buy the record, they can then earn money for themselves by recommending it to friends who download it.
A statement from the band's promotion team reads, "The band's intention is to create a music experience that can be shared and enjoyed by all and at the same time revitalize and subvert the industry standard."

"It can re-engage the excitement and spontaneity of offering new music immediately to fans, allowing them to hear the record at the same time as media and critics alike and hopefully giving people a fun experience at being the Kaiser Chiefs A&R department."