Kaci Battaglia Talks Past, Present & Being 'Crazy Possessive'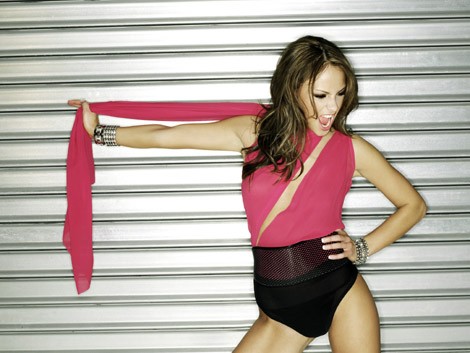 Kaci Battaglia
might be one of the best new pop artists but in fact she is not exactly new. Nearly a decade ago and in her early teenage years, she had multiple top ten hits in Europe and after a short hiatus Kaci is back on the dance/pop scene.
A southern girl from the Tampa Bay, Florida area, Battaglia took a short break from the entertainment business at the age of 18 to pursue academic dreams in Cambridge, UK.
Although she might be the only pop star ever to think International Politics and Economics is exhilarating, Battaglia admits her academic dreams are not a priority right now and she is back to focusing on her pop star ambitions.
Starpulse's Matt Anaya got to sit down and chat with the pop star hopeful and the two talked about law school, boy bands, and being "Crazy Possesive" in a relationship...
Starpulse:
How did you childhood develop you as an entertainer today?
Kaci Battaglia:
I was 12 when I signed and I went over seas almost immediately and had a couple top ten hits in Europe. I came home after around 15 and moved to Los Angeles until I was 18. A lot happened within that period and obviously there was the high of going out and working and being able to run a meeting at 13 and talk about things you wouldn't normally talk about like branding and marketing and things of that nature. And then coming home and kind of being lost socially and as an individual not so much as an artist but as a young girl.
I went through a lot and I was very religious and had to go through a lot of questioning there. I went through a lot mentally from the time I was 13 - 18 years old and that is around the time I discovered that I could write and I used it as a form of venting, to release.
I was finding out who I was and am at that time, and then realized I wanted to go back to school because education is very important to me and knowledge is power and cool (laughing).
I eventually realized, as much as I love going to school life was not the same. As chaotic as music can be and risks you take are huge, (for instance) you don't know if you are going to be making money, you don't know where you are going to live or how you are going to survive from day to day. But I do know when I wake up in the morning I am satisfied with a smile in my heart. Having that happiness inside is what it is worth the mountains you have to climb. You only get one life and one shot to be happy and why not take it and run with it.
Starpulse:
So your life was crazy as a child and you wanted to take a break from it and now you are currently in the process of coming back. Is that a fair assessment?
KB:
Totally, absolutely and now what is cool is that my past has taught me. The fact that I started so young gives me an upper hand in a sense that I kind of am more aware of what is supposed to be going on. I know what to look forward to, what to prepare for, things like that. Hopefully that will help me stay balanced and grounded in the future and help me reach my potential.
Starpulse:
When did you know that you wanted to come back?
KB:
(Laughing) About a year ago, maybe even less than a year ago.
Starpulse:
What were you doing a year ago?
KB:
I was going to school, I had the opportunity to do some cool things and study abroad at Cambridge, which was totally amazing and I loved it. I studied international politics there and met a lot of cool people and came home and just realized that I was not OK with how my life was going.
As much as I loved the idea of going to law school I could not stop thinking and talking about what I did when I was younger and I felt like a fish out of water, or a wild mustang trying to be an elephant. I just realized this is what I am built for and what I want to do.
Starpulse:
So you have been pretty busy lately getting back in the swing of things, what do you do in your free time?
KB:
I take care of myself by resting and right now I am actually getting a mani/pedi. Really, (if) I get 24 hours off I am sleeping 12 of them.
Starpulse:
Are you relaxing at home all day today?
KB:
I am at home in Florida right now relaxing, yes (laughing). I actually live right on the beach so that is convenient.
Starpulse:
Has your schedule allowed you to take a break?
KB:
Oh Lord no, I have not taken a break since the single was released (in May).
Starpulse:
Basically, a normal life is too boring for you?
KB:
Yes, I cannot do the normal 9-5 thing.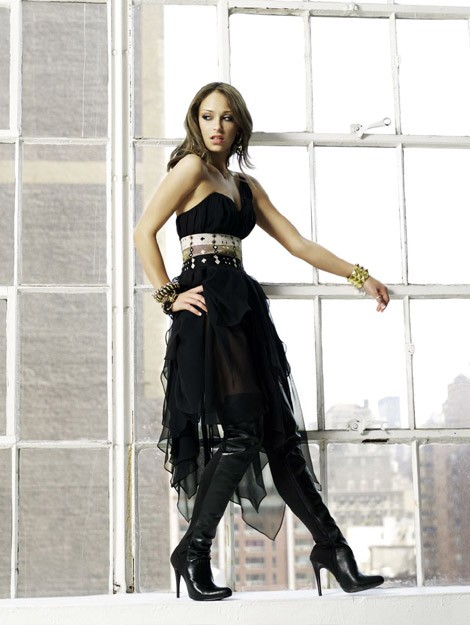 Image © Curb Records
Starpulse:
How many tour dates do you have so far?
KB:
Oh good Lord, I check my schedule on a day-to-day basis because it changes everyday. I think I am opening for
Jay Sean
next month but in the mean time I am doing a bunch of radio. Basically a lot of radio and just working radio and clubs and making sure my name get out there so we have a good foundation to build on.
Starpulse:
How many songs do you play on tour?
KB:
Just two, I need to get some more songs but I like getting on and off (the stage). I like introducing myself and playing songs people are familiar with, a lot of the people have already heard (the two songs).
Starpulse:
Are there accompanying acts with your tour or is it just you?
KB:
I have dancers sometimes but it is just me on tour. I have management and road managers always and my team of people with me but as an artist I am a solo act.
Starpulse:
You opened for a lot of popular acts as a kid (
Backstreet Boys
,
Bow Wow Wow
,
Jessica Simpson
,
O-Town
,
Samantha Mumba
,
S Club 7
and
Atomic Kitten
) were you a boy band fan?
KB:
Oh you know it! Your girl was definitely a boy band fan. I loved all the boy bands and it was so cool I got the chance to perform alongside them or open with them.
Starpulse:
N Sync
or
Backstreet Boys
?
KB:
(Laughing) It depended on when the release was because when
Millenium
came out I was all about the Backstreet Boys and when
No Strings Attached
came out I was all about N Sync. It kind of changed with the time and new music. I love new music, artists that push the boundaries of pop music.
Starpulse:
Who did you contact to get back in the music business?
KB:
I have been signed with Curb Records for almost ten years so I was always with them, it was just a case of actually doing something. The dynamics of how to go about having a song on the radio and become established had changed a lot in the last ten years and nobody really knew exactly what they were doing and now we are starting to get a general structure of how things work these days.
And now that we have that foundation it's easier to realize what you need and how to get it. When I finally made the commitment, less than a year ago, and as soon as I married it everything just kind of fell into place. It was almost like, when I willed it strong enough, it came to me.
To answer your question, it was really when I met up with my management and I was actually in Miami. I had written some kind of dance song that we were just having fun promoting and it was nothing serious, called "Can't Help Myself," and I went to Miami for the Winter Music Conference and met with management and from that point on everything fell into place.
Starpulse:
When did you find out you had a skill in writing music?
KB:
I started writing when I was eleven years old and I just kind of dabbled in it but it wasn't like poetry, it was basic love songs. I was trying to figure out was song writing was but it really wasn't until I stopped writing when I figured it out.
I didn't really challenge myself or even know I could do it on a professional level until I was about 15 or 16 and my management at the time didn't realize I could write and kind of hooked me up with a couple publishers who hooked me up with their writers. I had a chance to work in the studio with them and learn what writing sessions were all about and how to get my thoughts and my beliefs in a song.
Starpulse:
After talking to you I now understand how you were able to study International Relations and Economics abroad. Do you consider yourself smarter than the average pop star?
KB:
(Laughing) I do like to pride myself on education and that is a very nice compliment but I mean I don't want to be egotistical.
Starpulse:
Can you explain the lyrics behind "Crazy Possesive"? I assume something happened within a relationship or a friendship.
KB:
(Laughing) It did. Basically I was dating this guy and my best girlfriend at the time had known this guy longer than I had and there was some inconsistency in her behavior. We would have arguments at the beginning of our relationship and she would take my side then all of the sudden she would be texting him and calling him and he would be picking her up from school and going to lunch and studying together. I had issues with all of it and before I talked to her I went up for a writing session and started venting with them (the writers).
Starpulse:
Would you call your album a dance album?
KB:
I would love for it to be upbeat. I want most of the songs to be upbeat although it will be multidimensional. I want people to see the different sides of me and every human being has different sides and that deserves to be expressed. There will be slower songs but the majority will be upbeat.
Check out some sexy behind-the-scenes images from Kaci's recent video shoot on the next page!
Story by
Matt Anaya
Starpulse contributing writer
Twitter.com/ShmattShmanaya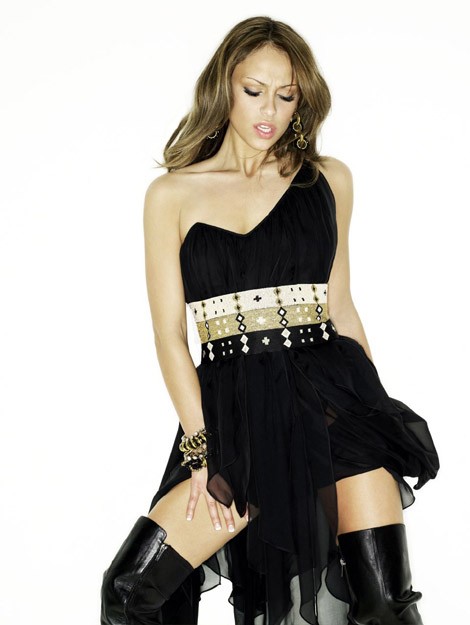 Image © Curb Records