K. Michelle And Ryan Lochte A Couple?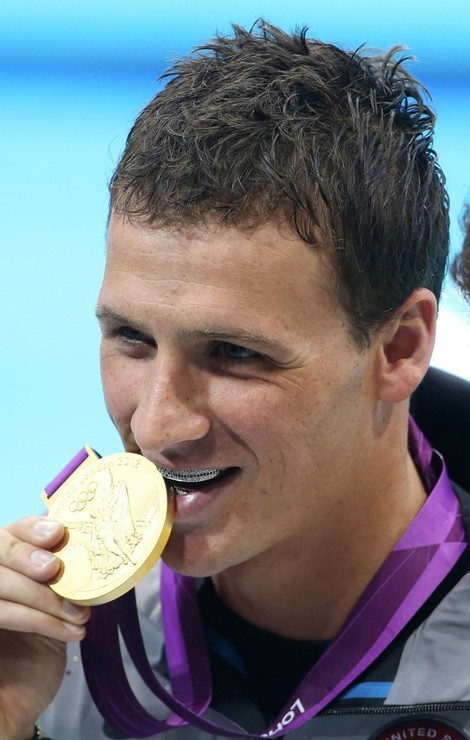 R & B singer, K. Michelle, and Olympic swimmer, Ryan Lochte, may be a couple.  
According to reports like, Mediatakeout.com, the hot couple has been spotted at events looking all kinds of cozy.  Michelle is known for her loud, crude behavior, but has a singing voice any record label would be lucky to have.  Lochte, who recently won the Olympic gold medal, is a big fan of hip hop music.  Perhaps that industry is where he discovered his newfound flame.  The talented songstess is featured on the hit reality-show, "Love and Hip Hop Atlanta."  
On a Youtube clip, the singer admits to having a relationship with a White swimmer, who has a gold medal. Lochte's mother seems to be desperately trying to squash any rumors about her son having a relationship. According to Us Weekly, mom said, " He's too busy! He's so warmhearted that I don't think he'd want to have a relationship with somebody.  I don't think he wants to get into a relationship.  It just wouldn't be fair to the girl."  The girl?    Is this a ghetto-behavioral issue, or a race issue when it comes to "mommy dearest's" concerns for her son's dating choices.  Oh, mom, if your statement is true, please, cut the apron strings.  You may think that your boy is too good for the girl, but you may have raised a hot ghetto mess yourself.  We've seen the pictures of Lochte with a mouth full of what appears to be gold teeth in a design of the United States flag.  Some reporters have even stated, in interviews with Lochte, every other word in his lexicon is "dude," and "like."  
K. Michelle may be too good for Lochte. She never appears to hide who she is as a human being.  She's authentic.  Her reps aren't draping her with fake personality tactics, gowns, and...well...maybe fake hair.  But, the point is, she is who she is. 
The "Love and Hip Hop Atlanta" star has been very vocal in the past about her relationship with a man who was physically abusive.  Perhaps K. is now trying to explore all of her options, opening up to a change of race, careers, and personalities, when choosing the opposite sex.
So to all the critics, reps, and moms everywhere, allow people to like who they like, and be who they are.  Allow people to live.  In 2012, we're all hoping that this issue with K. Michelle and Ryan Lochte's alleged relationship is not about race.