JWoww Heats Up The Bikini Invitational, Slams Hacker Who Put Swastika On Her Twitter Account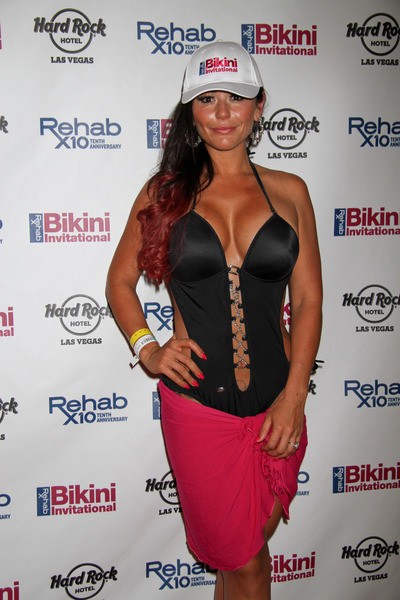 Jenni "JWoww" Farley celebrated the Independence Day weekend by hosting the Rehab Bikini Invitational at Rehab Pool in Las Vegas on Sunday. The former "Jersey Shore" star posed on the red carpet in a sexy one-piece black bathing suit that showed off her curves.
Meanwhile, Jwoww's Twitter account was hacked on Sunday night, and the reality star wasn't too pleased about it. The offending party changed her Twitter image to a swastika and added the fake bio: "Jersey Shore sluts getting ran daily. You can mark Sammi and Jwoww off the list."
In response, Jwoww wrote: "Pathetic losers... U wanna come for me meet me face to face! B---h a---s think ur cool hacking. Lets go."
Pal Sammi "Sweetheart" Giancola's account was also hacked.
Snooki noticed her friend's account was hacked and posted: "FYI my boo @JENNIWOWW got hacked. So if they tweet vulgar things (even tho jenni would do that) it's not her . #creeps."
Check out more photos of Jwoww in her sexy black swimsuit...