JWoww Duct Tapes Her Boobs For NOH8 Campaign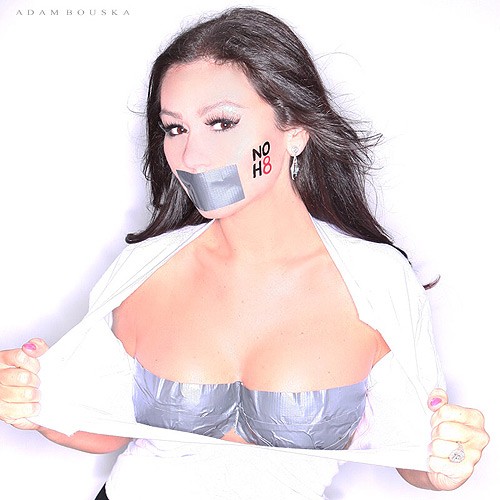 Breasts: is there anything they can't do? Nothing brings more attention to a good cause that flaunting what you've got, especially for Jersey Shore & Snooki & JWoww star Jenni 'JWoww' Farley

The 27-year-old recently posed for a new NOH8 campaign and posted a few images from the shoot, along with the official photo for the campaign to her Instagram page on Tuesday.

Adding to the campaign's signature piece of silver duct tape over the mouths of celebrity , JWoww added her own touch by going topless, save for a duct tape bra (that must've been fun to get off).

The campaign is a silent protest in response to California's passage of Proposition 8 and promotes marriage equality. It was founded by celebrity photographer Adam Bouska and has featured several celebrity participants, including Lindsay Lohan , Kim Kardashian and LeAnn Rimes. The stars are photographed with a piece of duct tape over their mouths and the NOH8 logo painted on one cheek.

Speaking of marriages, JWoww is set to wed long time boyfriend Roger Matthews later this year, something she would love to do in Las Vegas -- but not that kind of Vegas wedding.

"I just know I want to take everyone and go to Vegas," she told People magazine last fall. "Have, like, kind of a traditional wedding there, but the after-party Vegas style."