Justin Timberlake's Unaired 'Saturday Night Live' Mozart Skit Is Hilarious (Video)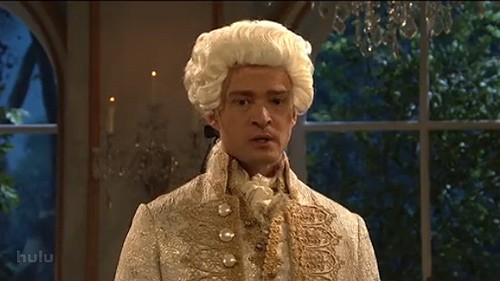 Justin Timberlake poked fun at his dual music and acting careers in a skit for Saturday Night Live; however the clip never made it into the final cut of the show, which is too bad because it's hilarious.

The actor/singer played Mozart in the scene and announced to his pals that he was putting composing on hold for a career as an actor - causing laughter and SNL regular Bill Hader to joke, "Oh Mozart - surely you're joking, you're not one of those musicians who thinks they can act?"

Timberlake goes on to reveal the he and his fellow castmates on 'The Austrian Mouse Club' all "hooked up with each other" before lamenting on being snubbed for any major awards for his role in The Social Network. He also takes a jab at fellow pop star Justin Bieber and gets branded a hipster for wearing his signature black-framed "horrid spectacles."

Check it out...


Latest Justin Timberlake headlines:
• Lady Gaga And Justin Timberlake Rock 'SNL' - Watch The Best Clips
• Justin Timberlake & Lady Gaga take Saturday Night Live!
• Rashida Jones Liked Kissing Zooey Deschanel, Didn't See Timberlake's Junk
More Justin Timberlake news & articles