Justin Timberlake Reveals 'The 20/20 Experience' Album Art And Full Track Listing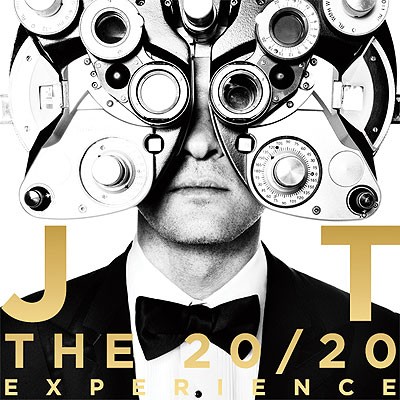 Justin Timberlake today revealed the art and full track listing for his third solo album, "The 20/20 Experience," due for release on March 19, 2013 on RCA Records.

The CD packaging, photographed by Tom Munro, will be featured on "The 20/20 Experience" albums worldwide.

On February 10, Justin will have his national television musical performance debut during the 55th Grammy Awards broadcast. He will then perform at his sold-out concert at the Palladium in Los Angeles later that same evening.

The black and white album cover, which features Justin in a tuxedo, behind an eye machine, was shot by world-renowned photographer Tom Munro.

Track Listing:
Pusher Love Girl
Suit & Tie
Don't Hold the Wall
Strawberry Bubblegum
Tunnel Vision
Spaceship Coupe
That Girl
Let the Groove Get In
Mirrors
Blue Ocean Floor

Check out the video for "Suit & Tie" below the interactive cover art for "The 20/20 Experience" (hover your mouse over the big cover (below) for more info on the new disc.