Justin Timberlake Performs 'History Of Rap 5' With Fallon, Apologizes For Postponing Buffalo Gig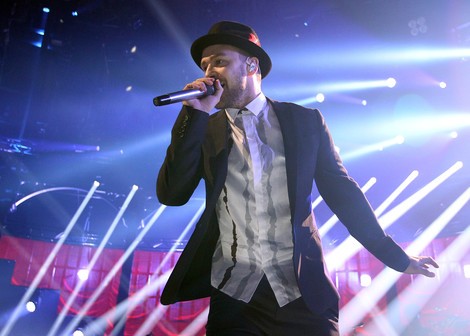 Justin Timberlake has been forced to postpone an additional show on his North American tour after rearranging his New York dates this week due to a health issue. Unfortunately, fans in Buffalo, N.Y., will have to wait until July 9 to watch him perform.
The singer blamed "health reasons" for canceling a Wednesday night show at Madison Square Garden in New York City and changing it to Friday, which forced him to cancel Saturday's concert in Buffalo.
In a heartfelt apology to fans, the pop star appeared on "Late Night With Jimmy Fallon" and told fans: "Hi, Buffalo. I'm Justin Timberlake and I want to say I'm sorry for postponing my concert... I know what you're saying: 'I don't want an apology, I want a concert.' Trust me, I hear you Buffalo. But there's no reason to raise your voice. We've got a good thing going, and I don't want to mess that up.
"So I'll tell you what I'm going to do. I'm coming back July 9th and you'd better be ready. We're going to party and... if you're not satisfied, Jimmy Fallon is going to come to your house and give you a full body massage. I'm talking hot stones, wax, everything! So I'll see you this summer, Buffalo!"
Meanwhile, the "Sexy Back" star got the late night show audience pumping by performing "The History of Rap 5" with Fallon. The pair sang a medley of hip-hop songs by Tone Loc, Will Smith, Notorious B.I.G., Busta Rhymes, Kriss Kross, Jay Z, Ludacris and more.
Check it out below: