Justin Timberlake Learned To Sing From Michael Jackson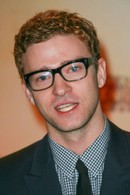 Justin Timberlake is hardly recognizable in his latest role. He provides the voice of Boo Boo in the live-action Yogi Bear, so you don't see his face an it doesn't even sound like him. It turned out Timberlake is quite a mimic, as he revealed the skills that taught him how to sing in the first place.
"Funny enough, I learned how to sing when I was a kid imitating singers on the radio," Timberlake said. "Al Green, Michael Jackson and Don Henley, those a few names I can remember off the top of my head."
Animated bears were an afterthought that came with Timberlake's hidden talent. "I'm an only child and I was obviously really bored. I would entertain my parents by imitating Scooby-Doo and Boo Boo. I would just imitate all the cartoon voices. So you know that about me now."
Timberlake hopes a new generation of kids will watch Yogi Bear and learn from it the same way he absorbed his cartoons. For him, it was another live-action/animation blend that blew his mind.
"There's a great way to reach young minds and right now it's with 3D big movies. I just got to screen the movie last night and it made me feel the same way that I felt when I first watched Who Framed Roger Rabbit? which I think is a classic A+ awesome movie. To be able to use that as well to school young minds on how money's not the most important thing in the world, and we need trees to breathe [is important]."
Yogi Bear is now playing.