Justin Timberlake Boosts 'SNL' Ratings - Takes Shot At Kanye West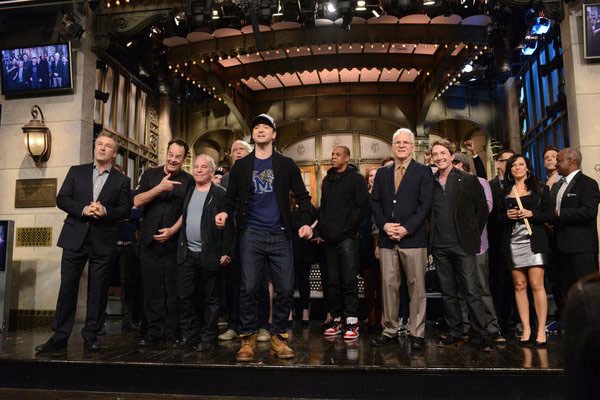 Justin Timberlake gave Saturday Night Live a much needed boost over the weekend, giving the show its  highest ratings of the season.
According to the Hollywood Reporter, the show's ratings went up 23 percent from last weekend and topped the previous mark set by the January 7 show hosted by Charles Barkley.
Timberlake served as both host and musical guest, and during his performance of recent hit "Suit & Tie" JT changed up the lyrics to poke fun at some recent comments about the single from rapper Kanye West.
The pop superstar teamed up with Kanye's pal Jay-Z for his musical comeback, but the "Stronger" hitmaker wasn't impressed with Timberlake's most recent effort, telling fans at a recent gig in London, "I got love for Hov (Jay-Z), but I ain't f**king with that Suit & Tie."
Justin playfully fired back at Kanye, changing one of the lines in the song from "Aww, sh-t so sick, got a hit and picked up a habit" to "My hit's so sick, got rappers acting dramatic."
There were also several special guests making appearances during the episode, like past five-time (or more) hosts Alec Baldwin, Steve Martin and Tom Hanks.
Former cast members Chevy Chase, Martin Short, Dan Aykroyd and 70s show regular Paul Simon also dropped by for the occasion.
Martin and Aykroyd reprised their Festrunk brothers characters (aka "two wild and crazy guys) for a skit that featured Timberlake and Andy Samberg bringing back their "D*ck in a Box" singers for a "Dating Game" spoof.