Justin Timberlake Apologizes To Buffalo Fans For Postponing Concert - In The Sexiest Way Possible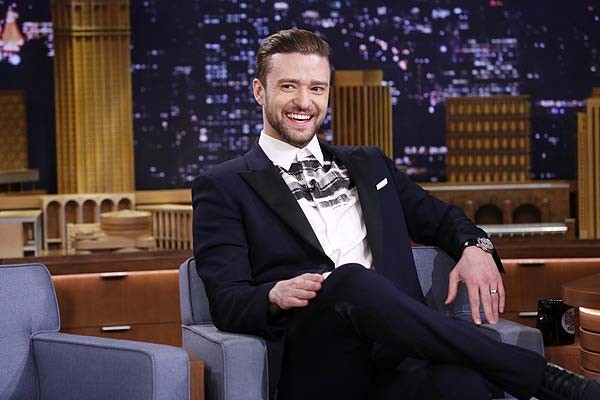 Justin Timberlake apologized to fans in Buffalo, New York, for postponing his Friday night concert in the city after falling ill earlier this week.

Timberlake was forced to bow out of his concert at New York City's Madison Square Garden Wednesday night due to health reasons, and the show was pushed back to Friday night.

But the rescheduling move meant that Friday night's gig in western New York would have to be moved.

During his appearance on The Tonight Show Starring Jimmy Fallon Friday night, the host gave Timberlake a chance to apologize to his fans for the move, which means that the folks in Buffalo will now have to wait until July 9 to see their idol.

Timberlake also revealed he was advised not to do Fallon's show because of his recent illness, but wouldn't miss it for the world.

"I love you, man," he humbly told the host after Fallon thanked him for taking time out to be there for his first week as host of the show.

The singer said he's been taking "hardcore" medication, to which Fallon joked, "Like [Toronto mayor] Rob Ford-type of stuff?"

"Enough [for doctors to say ] 'you probably shouldn't be on national television,'" Justin replied.

"Hi, Buffalo. I'm Justin Timberlake and I want to say I'm sorry, I'm sorry for postponing my concert this Saturday. And I know what you're thinking-- 'Justin, I don't want an apology, I want a concert.' Trust me, I hear you Buffalo. But there's no reason to raise your voice. We've got a good thing going, and I don't want to mess that up," he seductively told the camera.

Timberlake even promised fans some "hot tub bro-time with Jimmy Fallon" if they aren't satisfied with his show.

Check out the video below, and also check out the pair discussing their 'Celebrity Family Feud' skit on "Saturday Night Live" last fall.


The crowd cheered loudly for at least three minutes after Jimmy brought Justin out as his guest, and without saying a single word, Justin reached down and pulled a microphone from behind the couch while Jimmy grabbed one from behind his desk and the two launched into "History Of Rap Part 5," another classic holdover from Jimmy's stint hosting "Late Night." Check it out...